Flash Gallery
By 3Dsellers
(released Dec 14, 2011)
The best cross-selling tool for eBay sellers. Smart and good looking! Sign up today and receive a FREE subscription to our Thank You Emails app!
Categories: Listing, Marketing & merchandising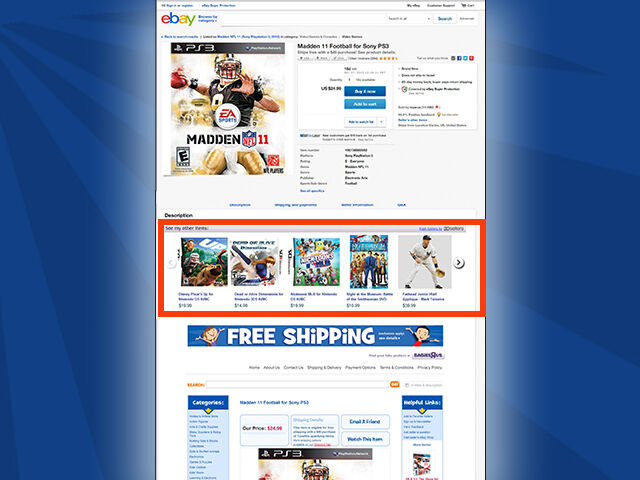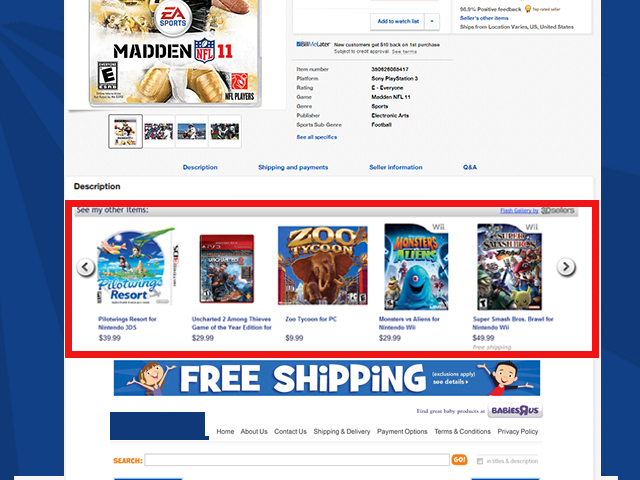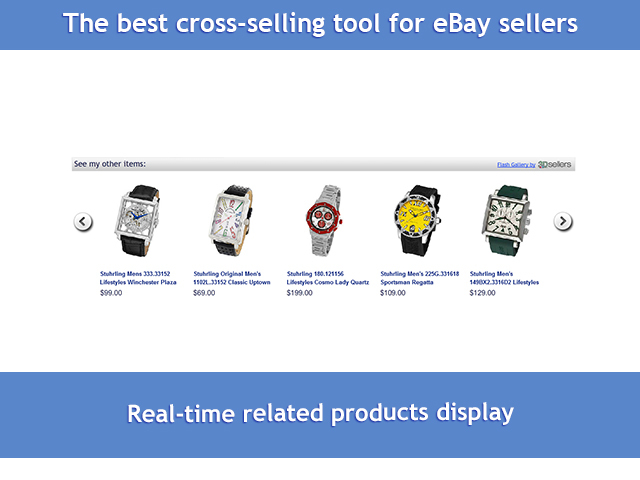 STORE DESIGN IS AWESOME!!!!
FINALLY, I HAVE A PROFESSIONAL LOOKING STORE! IT WAS FAIRLY EASY TO DO, AND YOU GET EMAIL SUPPORT WITHIN 24 HOURS. IF YOU ASK, THEY ADJUST THINGS THAT YOU MAY NEED HELP WITH! I HIGHLY RECOMMEND YOU GIVE IT A TRY!
---
I love this app but eBay just informed me I'm in violation of links on my page. This links to your other auctions. I don't understand why it says it's mobile friendly for eBay when eBay has threatened to shut down my auctions?
---
Needs some more work, would prefer that it showed different items on each page to keep clicks going
You guys should add an automatic scroll feature, show different items on each listing page, and improve the graphic quality a bit, I am thinking about keeping the subscription, but I am hoping to see some improvements within this first month before I decide.
---
---
Don't even Test it!! It will fill ALL your listings with garbage !!
I wanted to test it out, so I subscribed. The application is fair, but did not meet my expectations. I am using another application now. However when I unsubscribed I was in for a BAD surprise! The software left snippets inside my listings, which don't work but leave gaps inside my listings where the Gallery used to be. Now I have to edit ALL my listings to delete their code!! Support does not allow you to send e-mail. I eventually found the e-mail, and they are totally unresponsive after 3 days. Awful !! Awful !! Awful !!
---
Items selected are completely RANDOM, not from the same category
It's hilarious how it states the items it will add to the gallery will be selected by some smart "algorhythm". I have dozens of categories my items are listed under but the items the "algorhythm" selected are ALL from other categories... well except one, and that item WAS THE SDAME ITEM from the listing the gallery was on! BooHiss
---
Best cross selling gallery
I love this gallery! It is by far the best cross selling gallery available for ebay sellers!
---
don,t install it, nothing works
---