WWW Domain 4 My Store
By HighVolumeSeller.com
(released Jul 05, 2011)
Get a WWW .COM pointed at your eBay Store or items! Free to search - $17.95 per year for a domain - cancel anytime. Now you can pass around an easy to remember WWW link and lead customers directly to all your items! Establish branding and trust with your customers. What a wonderful way for them to remember to come back to buy more! WWW Domain 4 My Store makes it easy to search for domains and point them at your eBay store or items. Now you can get all your items on Faceb
Categories: Marketing & merchandising, Checkout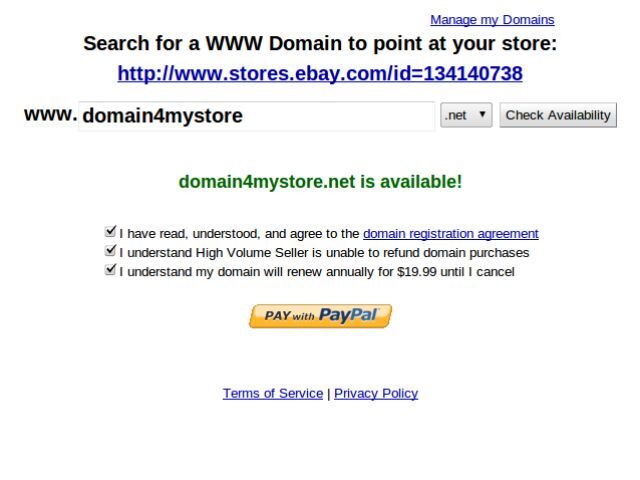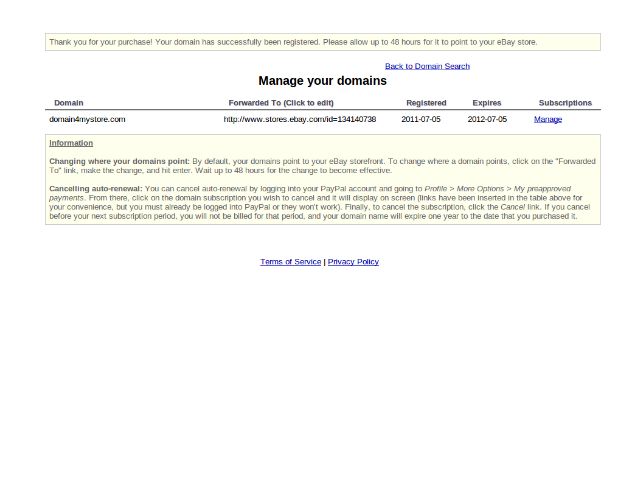 Key features
--- $17.95 per year per domain when you buy. Cancel any time ---
Search for as many domains as you want. No CAPTCHAs to block you.
Domains renew annually, cancel renewal anytime
Automatically creates necessary domain customer accounts using your eBay profile information
Automatically creates technical, administrative, and billing contacts using your eBay profile information
Register your domain and activates domain forwarding
Automatically forwards the domain to your eBay store or eBay search results page if you don't have a store
Change where you point domains to--anytime--anywhere
Description
How it works: You log in and search for as many domain names as you want. When you're ready to buy one, just pay through PayPal. No need to fill out long forms or go through anything technical--we'll use your eBay information on file. Once you pay, we point the domain name at your eBay storefront or eBay search results page. We let you click on that link to see what that looks like inside the application before you buy the domain name. Finally, your domain renews every year for the price you paid for it.
Have you ever tried to register a domain name with a big registrar? First off, just searching for a domain name is slow. Results are usually not instantaneous on the same page, but a webpage away. Also, our competitors have advertisements and junk littering your screen, and once you finally agree to buy a domain name from them, they try to nickel and dime you all the way to checkout. It's a totally painful experience.
We realize searching for domains is a creative process. After all, you're establishing branding, and what's more important? We've cut out the clutter and let you search for domains as fast as you can think and type. Fire away! Best of all, paying, registering, and pointing the domain is automated through one click and PayPal. If you want to cancel anytime, no hassles there either. We want to be the easiest and friendliest domain registrar on the Internet! Contact us anytime for customer support and we'll get back to you ASAP!
*** This product does not make your domain automatically show up on Google or do search engine promotions or any promotions for you. Please read the product description and understand what you buy before you buy. Search engine marketing is expensive and requires a lot of energy just like any marketing endeavor.
Thanks for using WWW Domain 4 My Store!
Additional resources
Please like us on Facebook for updates about our company
Application requirements
Supported browsers:
Any modern web browser
Supported languages:
English
Supported eBay sites:
ebay.com
Required eBay subscriptions:
None
Application support
Please allow 2 business days