WWW Domain 4 My Store
By HighVolumeSeller.com
(released Jul 05, 2011)
Get a WWW .COM pointed at your eBay Store or items! Free to search - $17.95 per year for a domain - cancel anytime. Now you can pass around an easy to remember WWW link and lead customers directly to all your items! Establish branding and trust with your customers. What a wonderful way for them to remember to come back to buy more! WWW Domain 4 My Store makes it easy to search for domains and point them at your eBay store or items. Now you can get all your items on Faceb
Categories: Marketing & merchandising, Checkout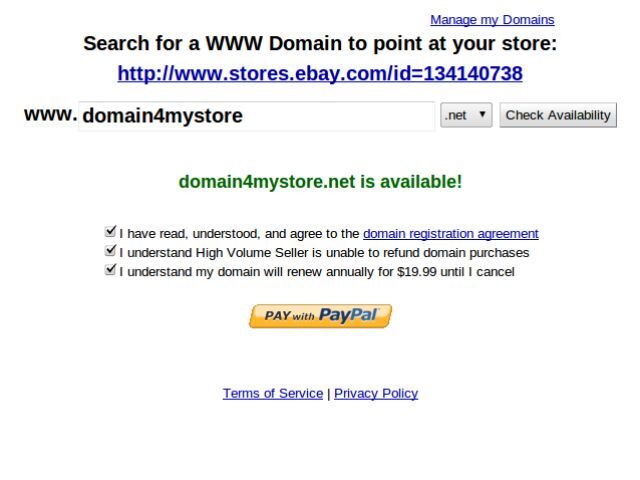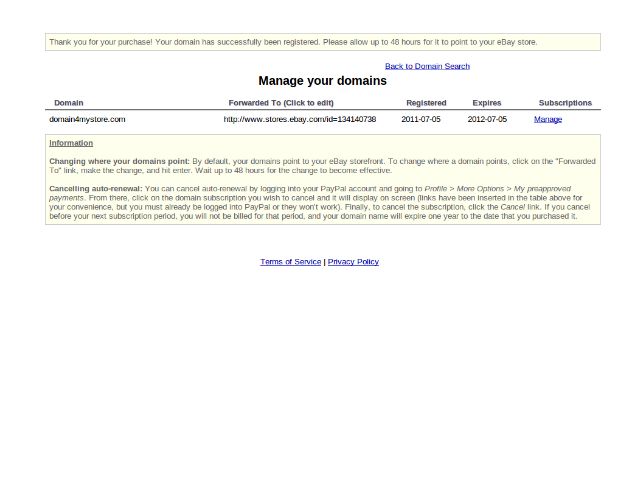 ---
its the best 18$ I ever spent....great for sharing your site
---
Needed a Domain and they took care of it.
If you don't want to do it yourself, they take care of it efficiently
---
i just kept getting a message saying "an embeddd page is causing an error" it doesnt work
---
---
Could not set up my domain and I got a ZILLION marketing calls because my phone number was sold to God knows who. I am so annoyed.
---
Works great set up is only a minute worked immediately
---
Another vender charging me every year after canceling
Buyer beware, I cancelled but the $17.95 charge was added to my card indefinetely. Buyer Beware
---
Billing Practices BEWARE! BEWARE! BEWARE! ... ! Billing Practices
I contacted this company and asked them to cancel my account they said they could not cancel it I was in shock to say the least to find tht they have been billing me every month
---
---
Awsome works perfect for business
Easy to use easy to understand straight a to b awsome
---
---
---
has been working keep getting error.
---
Best app ever.... love it!!!!!!
Works and makes it so easy to give out a link instead of the mile long ebay links
---
website connects directly to my store plushgamesandmore.com love it I will continue to use your service.
---
don't do it it's misleading... To be a store on e-bay you still have to pay an additional fees.
---
Don't want the hassle of having to build a website or use some strange name this app allowed a small business like myself the ability to have my own domain name and website and look professional on my business cards and makes me a real business not just and Ebay store or some strange website. I own my own website now for such an affordable price and the support is great I was up in running in less than a day.
---
I wanted my own domain and it worked. Easily searchable online and people find my listings.
Worked as expected domain is easily searchable online and I can simply publish my domain and folks find my website, Ebay listings
---
I have been using WWW.Domain4MyStore for 4 or 5 years now and I have never been disappointed. If you ask a question you get an answer from John Wheeler the same day or sooner. John is like the tax man you use for your Business, when you finally find a good one you never want to change. If he ever decided to move on, it would break my heart. Dave BigDavesYardSale (Fire Equipment at Yard Sale Prices)
---
---
Great option and it's free.
I recommend this for sure. You certainly can't beat the price=free.
---
havent checked yet but ccan tell its some sort of 302 redirect. awesome job thanks man!
ill fill this out after i use it.
---
---
makes no sense what to do. do not go this. it is junk and is a hack.
---
This app can only be paid with PayPal.
---
---
---
Just like what it's said to do.
---
Easy to invite others to YOUR SALES ONLY
Great way to add your web address to vista print cards for passing out to new potential clients. Would like a little more interactivity, but for it's design and cost, total value!
---
after two weeks this site is not available any more
---
I love it! One payment for years to come. Awsome! We need more apps like this. Thank you
---
Excuse my ignorance, I did not know this app existed
I am slowly building my eBay store and reviewed the apps section that helps with this effort. I was happy to find out that a domain could be created for the store! I am not really good with SEO, so if there is an app or service for that too, then someone please let me know. I will continue searching the app for this feature. Email marketing is fine, but it would be great to have a better ranking on Google, Bing, and Yahoo searched. Oh, I also forgot that I can submit the new web address to Google Webmaster Tools (or something like this). This is at least a start. Great app, so far, I am pleased with it.
---
Maybe author will eventually fix it. If so, I'll try this again. But at this point, it doesn't complete a search for domain name so it's useless to me. Too bad, cool idea.
---
I dont know what to think of it
You don't get any help. There's no one to call. I'm still deciding whether I lil it or not. I wrote them and I have yet to hear back from anyone.
---
Great app. Easy to use and fast customer service!
---
---
Waste of money and time. Not relevant to searches requested which can be done for free on any domain provider or just enter in url. Don't waste your money on this one it is a scam as far as I ma concerned.
---
Great price for great service... Thank you
---
---
Fantastic service, Excellent Price!
Very easy to use , excellent customer service! Definitely recommend!
---
Excellent domain for my store with increased sales.
Added sales to my store.
---
so far so good. very pleased with a kind and helpful email just to say thank you
The application is just what I need it to do!! Great
---
Everytime I have needed help they have been there and got the job done
Everytime I have needed help they have been there and got the job done
---
Steller App/Service and Great Value!
This app works 100%. I rate it above and beyond 100% because John is a true, genuine person focused to helping you build your business through this app. It works flawlessly to forward traffic to your store. Great for easy printing on Business cards to have customers remember your domain too! A+++++ FIVE Stars!! Rob
---
The service is what they say But they have sold my contact information to everyone
Relentless spam and phone calls since the day I signed up for this. Not Happy
---
Love this feature, allows my customers to find me.
Awesome
---
Isagenix Weight Loss 30 Day Cleansing and Fat Burning System
This product really works to help you lose weight. You can achieve your fitness goal in a short amount of time. If you are a competitive athlete and you're looking for that competitive edge. It's gives you the energy you need for the day naturally.
---
Excellent program to bring customers directly to your ebay store
Customer service is very professional and rapid response to questions ask.
---
Love the price of the domain.
I had been searching for a domain and did not realize that it was available thru something that was relatedf to ebay like this app. So glad that I found this app
---
---
You said it is free and it is not!
You described as a free domain dut you charge! it is a scam
---
Genius and great communication
Starshinestarbright.com rates you one million stars! You really help my business and we SOoooo appreciate it! Great app!
---
I am a mother of two teenagers, not working outside home, I was needing this type of PUSH to GO on for my Family. Thank You.
---
This service is AWESOME! Signing up is super easy, and very affordable. Should you experience any issues their customer service is wonderful!
---
Your own domain name that points to your eBay shop is far better than the www.ebay/mystore.com ANYDAY!!! You def appear more serious to your buyers! Love this app!
---
Just found out my domaine is gone and they do not respond to messages. I'm suing them soon
---
It works as advertised, just pick a domain name, give it out and spread it around and it will take people directly to your eBay store.
---
Awesome customer service.
---
If you are looking for a domain name for your online e-bay store, this is the place to get it.
---
---
I love what this app does!
Directs traffic to my store through a customized we link that I was able to choose.
---
This is really great mostly because they do everything for you and you don't have to remember to update new listings. I think it gives buyers confidence to buy also.
---
Just wonderful tool to shorten domain names for your customers to find you fast. Well worth the money. Very easy to use. I plan one buying more to point to other web sites I have.
---
I've been wanting a domain for my Ebay store for a long time but didn't know how to go about getting one. This was super fast and easy!
---
Easiest application to quickly get an active domain name! Would highly recommend
Quick, easy and pain-free!
---
They say FREE until you try to put a domain name in then they say it will be payed out of your Paypal account??? RIP OFF!!
---
Great to have a WWW address to point right to the eBay store! Was up and going in a couple hours.
---
Very happy with this application Iam able to make business card and have more exposure to my ebay store. Excellent customer service and very easy to set up.
---
(There have been no reviews for this application.)
---
This is a NOTHING application
I fail to see the usefullness of it it is not even worth the one star you FORCED me to give it.
---
Gives a basic seller a edge.
Great for a basic seller to have his/her own domain. Gives you a edge and creates a more professional image. Love it, Thanks guys. My best, Heinrich
---
Domain 4 My Store is a very useful marketing tool for many products.
This app is probably the most important if any a seller should have. Using this app allows you to make business cards as you have a real domain name. You couldn't put E-Bay's http:// address on a business card. I use it in every adverting campaign I do. From listings in Search engines to listings on directories. I have known John, the developer for many years. His response time to answering inquires is quick and if something needs to be corrected it is done immediately. I have never received in years an email from someone say that my domain is not coming up. Where can you get a critical advertising tool at this price. It comes to about 35 cents a week. Can't beat that!
---
I subscribed to this domain in 2011 with an on going subscribe my domain was resold without my knowledge and I have sent message to company without a respond. This must be a SCAM!!!! SORRY I HAD TO RATE THIS!!!
---
---
Love this app, and the customer service is awesome!
---
hortible, over 600 subscribers, just found out, rewards not working anymore
THIS IS THE WORSE THING THAT CAN HAPPEN HERE, BEEN WITH REWARDS FOR YEARS, 100'S OF CUSTOMERS OPTED IN, AND PAID MY FEES ON TIME UP TO NOW, MY REWARDS PROGRAM NOT WORKING ANYMORE , SAYS UNAUTHORIZED ACCESS??????????????? I AM SUING
---
Excellent app and I would recommend using it!
This is a great app and is super easy to use. I selected a domain name and it simply redirects people to my Ebay Store. Very easy to subscribe to and set-up.
---
Just as advertised. Great way to get on the web beyond Ebay.
Domain was established and working within minutes. Love it!
---
I had my domain up and running in minutes the fastest and easiest service I have ever used for domain names A+
---
I have contacted support twice and no response from them.
I was sold a domain that was already taken .
---
---
---
---
Very happy with the application
Very happy with the application
---
TOTAL KICK AZZ APPLICATION
THIS APP ROCKS.IF YOU DONT HAVE YOU NEED TO GET IT.
---
---
Excellent for websites!!!!!!!!!!!!!
Thank you!!!!!!!!!!!!!!
---
Can't beat this awesome app. What a great idea.
your domain name for under 20$ a year, that's great.
---
I just began and I`ve not explore the application just the domais and I think it`s a great Ideaa. Thanks
---
This Is Really Great! Your OWN Domain Name Points To Your Ebay Listings!
Whether you have an eBay store, or not, you can have your own domain name that points to your eBay listings, and it's less than $1.50 a month, for the whole year! Then you can write some articles, and post them on article marketing websites, pointing them to your domain name, just as I have done with my www.GoodLuckCharmsThatReallyWork.com which is bringing ME more business! I LOVE this feature from www domain 4 my store! You will LOVE it too! Only takes a few minutes to sign-up, and your new domain will probably be functional faster than you can believe it!
---