Share Your Items
By 3Dsellers
(released Dec 09, 2010)
"Share Your Items" is a complete social media toolkit for eBay sellers. Let your items be seen everywhere. "Share Your Items" is the only app that lets your buyers share eBay items with their friends. The app adds social networking buttons to your listings and sends a customized email to your buyers offering them to share their purchase and feedback with their friends.
Categories: Marketing & merchandising, Listing
If you are subscribed or want to subscribe to this application please
click here
for details.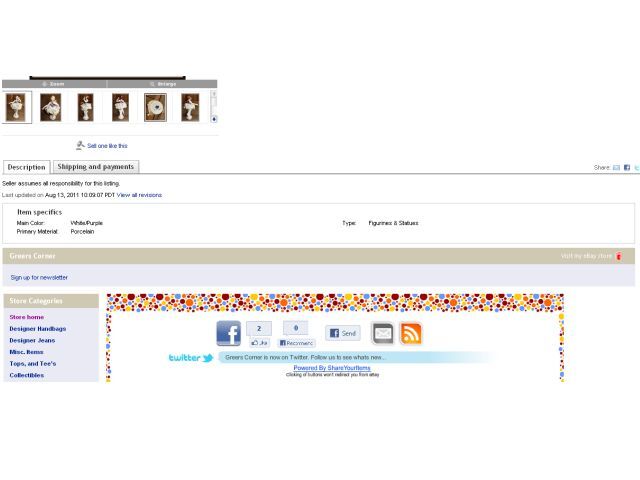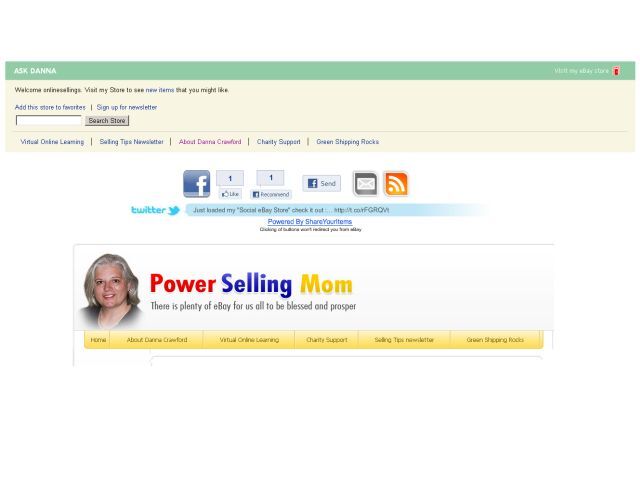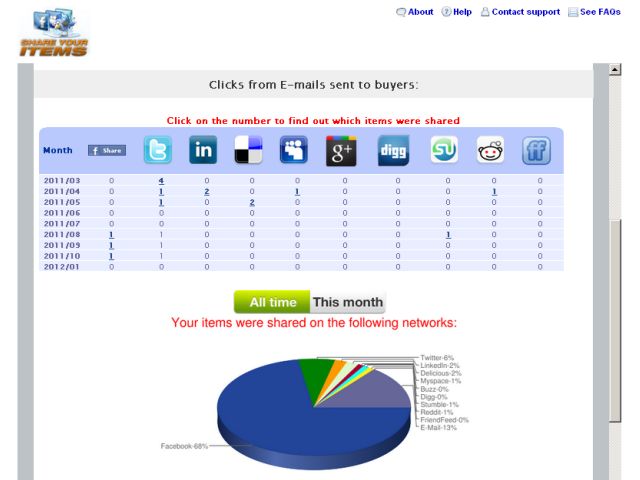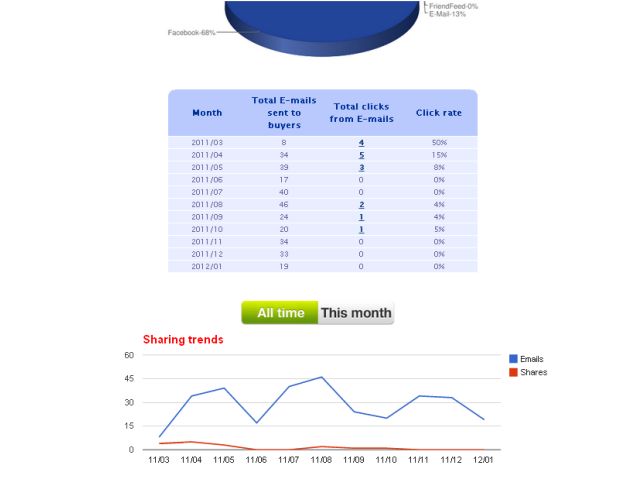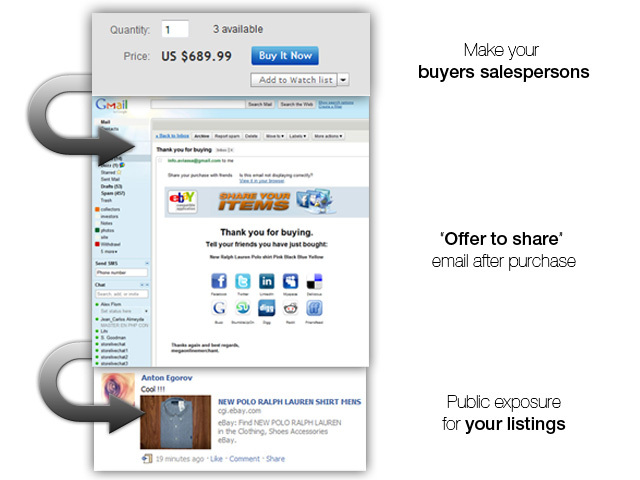 ---
Keeps posting active content to my listings even after unsubscribe
Keeps posting active content to my listings even after unsubscribe
---
Warning - Doesn't Support smart phone market
Terrible app, i signed up just to try it since you can manually insert the code on specific products. Instead it automatically inserted on all of my products, now i have to go to each product and delete their code. Also, after testing their app doesn't support smart phones, their idea is great on paper, however their corrupted business practice and dishonesty warrants law suites, thats my opinion.
---
It started out well, but they changed it and now it sucks.
Share is supposed to share a picture of my listing.... not a picture of an Ebay logo... No one will be interested enough to click and take a look without the picture of the item, you dummies. So, Goodbye Share Your Items.
---
---
---
Can't change setting and NO customer support.
I have tried to change setting in three different browsers without success. There is in email or phone support. Not recommended.
---
What are my benefits so far and how do I access them?
Before the free Trial ends how do I enhance my eBay store through this application?
---
It works Great! It is easy to set up.
---
Wanted to end this app and i ended iot.But they made me wait 9 days.
Wanted to end this app and i ended iot.But they made me wait 9 days.
---
The day after I signed up, all reporting ended. Can not see if it works or not and has been this way for over 1 month. The after auction emails need to be redesigned so they do not look so elementary. Good idea, but needs a lot of work before I would consider using it again.
---
Most Negligent and Unprofessional Service
Things were great when I first purchased this app (4-5 months ago). No problems at all. However, just recently after contacting customer support for help they abruptly quit replying to my emails regarding a concern. I thought maybe my previous message did not go through. So I sent another email. No response. No concern resolved. No nothing. Customer service is considerably unprofessional to paying customers and fails to help if you have any questions or concerns. Will be cancelling my subscription.
---
worked for the first week after that it worked whenever it felt like it
i hope they update it
---
---
---
Site stopped auto billing of my PayPal account, I have tried to pay bill with no success. Contacted both eBay support and PayPal support with no success. Site will not answer my emails.
---
---
Good Idea, but doesn't work and no customer support
Tried it out for a few weeks and all it would do would send me emails instead of customers and only haphazardly would it put the share buttons in my listings. Some would show up with it and some wouldn't. What I really don't understand, and I never received an answer from customer support, is why I received emails for feedback I left on items I bought offering to "share your purchase from [me]" with others.
---
very easy, app does all the work. and great price too.
---
HORRIBLE - DOESN'T WORK IN ACCOUNTS TAB OR LISTINGS AND YOU CAN'T EVEN CANCEL
---
Great app and customer service
The app does exactly what it says, and the developer is really helpful if you need anything customized. A+
---
The realty about this things is that is looks good but dos not drive traffic to you. AND IMPOSSIBLE TO DELETE FROM YOUR SITE...BEVARE
---
No One Should Be Without This
A great and effect method to get the word out. No eBay seller should be without this tool.
---
Whats the point nobody clicks on it. Not a good app.
Not good customer service is horrible too.
---
Love this product. Did not have many display options, but I love that I could implement the code into my templates through html.
---
Assistance was very prompt, which was impressive!
Customers support is reliable and was fast. I believe this app has a lot of potential and that any serious seller would consider it in their business. Get this app!
---
PERFECT app for us Social Butterflies!!!
I think this app is brilliant! I especially appreciate it showing off the last tweet I made on twitter and the fact it opens up in a new window for the viewer to LIKE the listing. Having our listings go "viral" not only helps us gain exposure and helps promote our branding, it also provides a type of cross-promotion encouraging visitors from our network. I'm very pleased and can highly recommend!
---
Very easy to get started and the results are easy to read and understand. Very cool app. Thank You.
---
Not only the app does what it says, but the customer service answers right after I send my question. Excellent!!
---
It just didn't get used. Nobody shared any items, clicked on any emails, etc., I just don't see much of a return on this application unless you are selling thousands of items each week.
---
clicking on social buttons only increases counter but does nothing real
I clicked on like and it opens a new blank window with a small "like" button, clicking on that just blinks and that's it, doesn't move to facebook, you see nothing on facebook after that, and if you click few times (let's say 5) on that like (same item) - you get stats of 5 likes - as if 5 people like your item :(
---
I love the way this app has brought more viewers and bidders to my auctions. It simple to use and I highly recommend it if you are looking to increase traffic to your listings.
---
Also, the app appeared at the top of my store (may have been my fault) which made it undesirable. No flaws in the program, though.
---
I have made more sales using this than by relying on ebay's system.
---
---
These guys are the best! Great customer server, very helpful and the app is awsome!
---
I have seen an increase in sales. I think it is great.
I will see an item sell...Then I will see two or more sell soon afterwords. This happens even on items I have had listed for quite some time.
---
Horrible. Cancelled within 1 week. haven't used account in 3 months still being charged.
Horrible. Cancelled within 1 week. haven't used account in 3 months still being charged.
---
This has driven more sales to my items.
I have received plus 10k links in google by using this app. It is a must have if you want to sell more products.
---
ALL IT DOES IS ADD MORE UNWANTED EMAIL REPLIES, AND ITS NOT FREE!!!
ALL IT DOES IS ADD MORE UNWANTED EMAIL REPLIES, AND ITS NOT FREE AS ADVERTISED!!!
---
Nice app. But should have more option for Image to add on my temp
---
Hit or Miss. Sometimes the app doesn't create a link on the listing page. And I could never figure out from how to see the stats. It just seems impossible to find it.
---
FANTASTIC!!! HIGHLY RECOMMENDED!!
I purchased this application a few months ago and was recently considering a cancellation as it did not provide enough detail as to whether it was exposing my items on social networking sites as stated. That is until the newest version became available! This revision details which social sites have been used to expose your items with "recommended" or "like" by buyers or prospects. In addition, they have taken it a step further by issuing an email to buyers after purchase which encourages an item's promotion on a buyer's social site. TALK ABOUT EXPOSURE!!! This is a FANTASTIC application! Oh yeah, I have been informed that the next revision will detail which items are being promoted the most on social networking sites. MORE PROMOTIONS = MORE SALES! This application is definitely worth every penny! KUDOS to the development team! And they provide immediate customer support through online chat! Talk about service! PHENOM!
---
Very expensive app, there free app which supply the same service FREE
Very expensive app, there free apps which supply the same service FREE. I paid a lot of money into weeks and I got nothing!
---
Really looks great and shares your sales
Really looks great and shares your sales
---
Improved my revenues. Customer satisfaction guaranteed
Nice app, very fun to use! Social sharing is great and in the news, the new hype!!!
---
Fun, friendly and productive
Share eBay products with your friends. Help attract customers and improve your revenues! Pure fun and up to date.
---