Animated Listing Template
By PMIT Inc
(released Sep 24, 2012)
Automatically apply professional looking listing themes to your current eBay listings.
Categories: Listing, Marketing & merchandising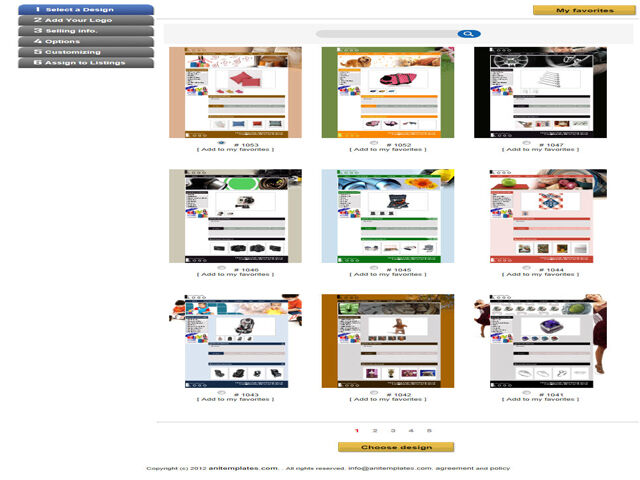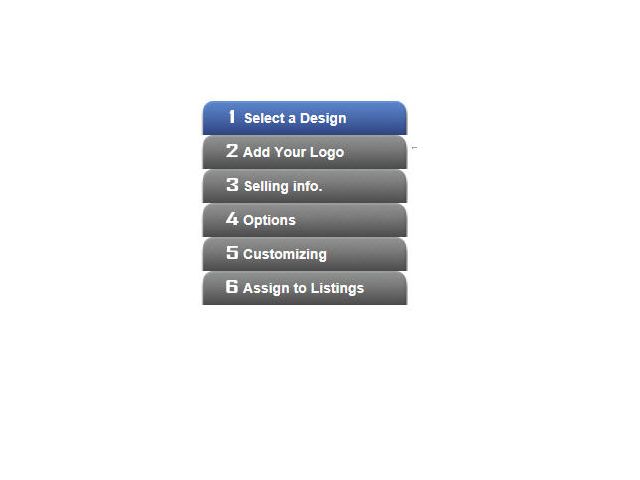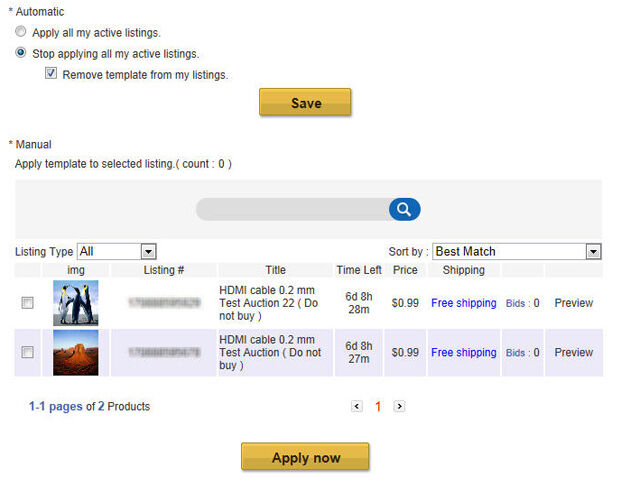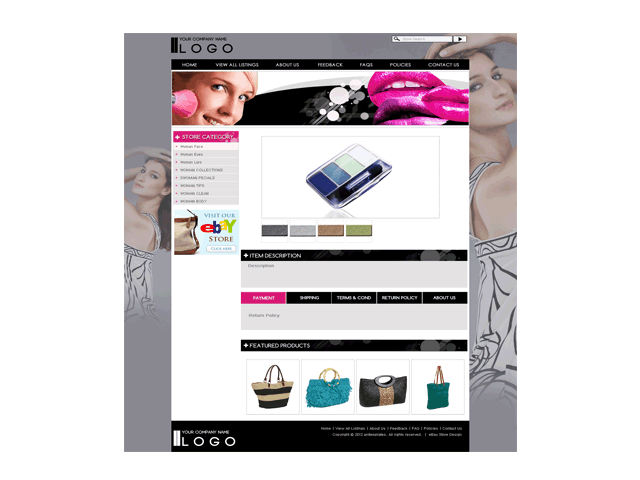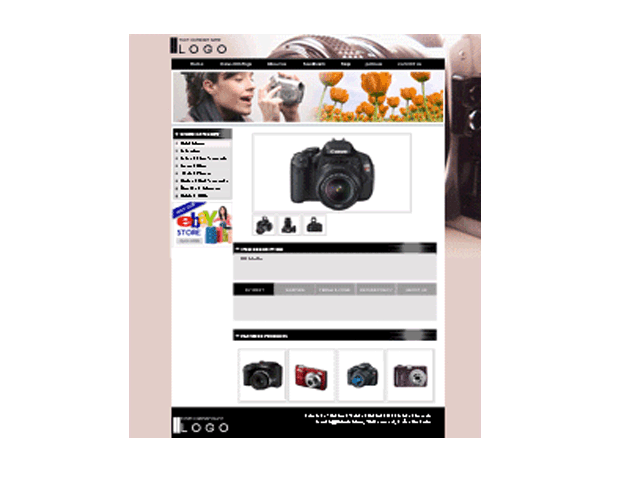 Animated Listing Template
Key features
Automatically apply professional looking listing themes to your current eBay listings.
Include animations in the listings to attract attention
Create user customizable themes with ease
Apply themes to all current listings at once with ease
1000+ professionally designed themes to choose from
Image zoom function
Cross promotion feature
Add your own logo
Free unlimited use for the first 14 days
Unlimited use for $2.99 per month
Description
Do you want to attract more customers with professional looking and dynamic listings?

Let's face it.Moving, dynamic images will catch more attention than boring, still images.Also, professionally designed looking listings give trustworthy impressions to attract more customers.With this software, you can achieve that and more in order to increase your sales.

With this engineered software, you can automatically customize your eBay listings with professionally designed themes and templates to enhance the listings' appearance.The designed themes include animations with moving images as well to make your listings more dynamic and noticeable.

Select from a library of over 1000+ pre-designed template themes which are designed to suit most categories and items. If you like to create themes to suit your items, you can even customize to create your own themes to apply.

With a click of a button, you can add themes to all of your current listings instead of having to edit each listing. Select one template for all your listings or different templates for each of your items. The themed listings will allow to advertise more professional looking listings and promote your brand and store.

Take advantage of the free trial and see the results.

Additional resources
Application requirements
Supported browsers:
modern web browser
Supported languages:
English
Supported eBay sites:
ebay.com
Required eBay subscriptions:
None
Application support
Support : info@anitemplates.com
New design request : info@anitemplates.com
PMIT Inc
The PMIT is a leader in ecommerce services. We are one of the leading independent PayPal management services for eBay ecommerce and have been providing tools for eBay sellers since 2007.
Also from this developer:
By PMIT Inc
(released Dec 17, 2009)
Manage your PayPal transactions directly from my eBay. Automatically match eBay and PayPal transactions, compare paid amounts and postal codes from one place!
Categories: Finance & accounting, Shipping & payments
By PMIT Inc
(released Mar 22, 2010)
Apply animated professional design to your current eBay store. Only $3.95 per month.
Categories: Listing, Marketing & merchandising
By PMIT Inc
(released Jan 31, 2013)
This application will allow the sellers to monitor where their listing is on the Best Match search results and provide general recommendations on how to edit the listing to improve rankings on the Best Match se...
Categories: Listing, Research & reporting
By PMIT Inc
(released Feb 18, 2014)
Show your past positive feedbacks on your listings and assure Buyers to buy with confidence.
Categories: Listing, Marketing & merchandising
Subscribed for this service over a month ago and even contacted them by email and guess what? NO RESPONSE!!!
Created By: ikonicstudios
---
**DO NOT INSTALL THIS APP**
**DO NOT INSTALL THIS APP** App been in a pending status for three weeks. No one will respond. Been emailing them almost everyday for help. Meanwhile you cannot stop the payments.
Created By: yourfishstore1
---
Never able to download, use, preview
The application was stuck on pending for days. Contacted support via email as instructed and never received any. hopefully canceling subscription before trial period runs out will not be the same experience.
---
This didn't work at all, stating "pending" for 3 days and ZERO response from support. I can't even cancel it. Would NOT recommend.
Created By: maggie_rose_apotheca
---
Signed up a month ago. It has been stuck on Pending ever since. Contacted support by email 3 times and received no response. It's already listed under my Account though so I'm sure they will bill me for nothing! DO NOT RECOMMEND!
---
STUCK on pending few weeks now "JUNK APP"
Stuck on pending for few weeks cant get no one to help get this JUNK off. I will NOT PAY FOR THIS IF I CAN'T USE IT. STILL PENDING ERRR CAN'T REMOVE IT HOW YOU GET THIS OFF??? This app SUCKS DONT TRY IT . ITS FAKE TO GET YOUR $$$ bad bad bad ?? ?
---
APP DOESNT WORK WORK PROPERLY
APP DOESNT WORK WORK PROPERLY
Created By: da.reason2buy
---
Will not work and can not get it off my apps page. It just says Pending.
Created By: annscollection
---
Not good for novice. Tried to get help and was unhelpful. Cannot 'talk' to anyone.
Created By: sophies_corner
---
Lazy out dated nonworking app.
Very disappointed. Looks as though a kindergartener put together this app when needing his nap. Nothing works as it should...very sloppy cardboard cutouts for templates. No customer support offered other than an email address.
---
terrible app, do not waste your time
cannot remove templates without closing the listings. waste of time and $$
---
great service and template
Fantastic!
---
Not so easy to use on my IPad!!!!! Grrrrrrr
Created By: magnificboutique
---
If you make a mistake the template can't be removed from your listings!
If you make a mistake the template can't be removed from your listings. I now have coffee machines with a picture of a violin on them and I can't get it off with out ending all the listings!
---
Monthly Plan
$2.99 / monthly - Unlimited access
14 Days Free Trial *

Yearly Plan
$35.88 /yearly - Unlimited access
14 Days Free Trial *