eLiveHelp
By L and J, LLC
(released Dec 05, 2011)
A live chat application for you and your eBay customers! Chat with customers on eBay and your website, custom styled chat buttons, extremely easy to use app, integrates with IM clients so you can answer questions from your Smartphone, and more great features. Answer questions right away and get more sales!
Categories: Customer support, Marketing & merchandising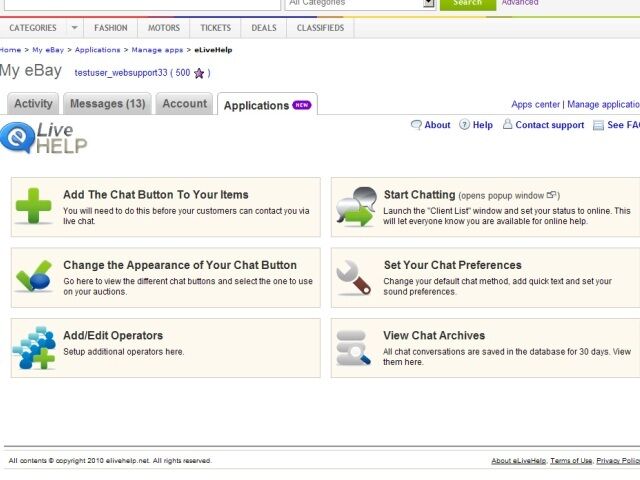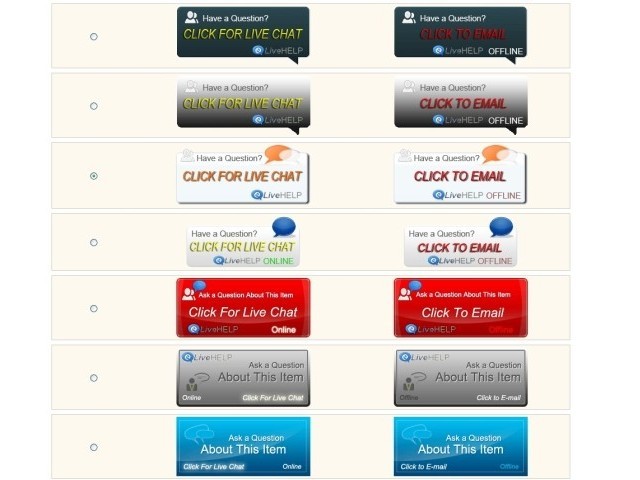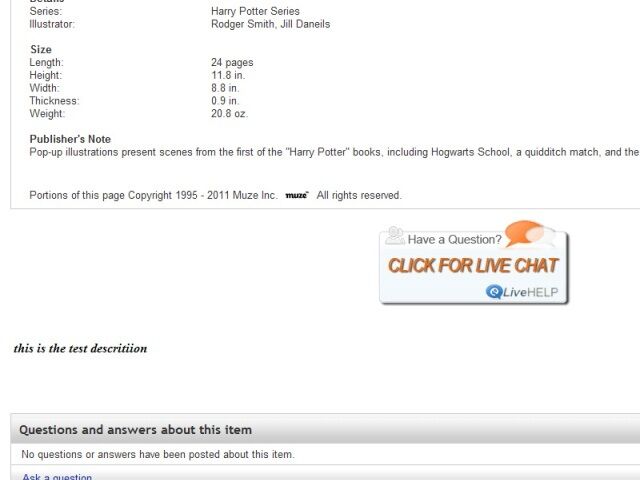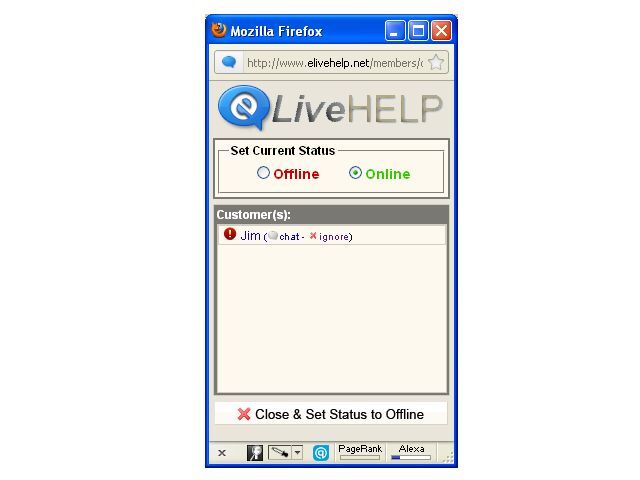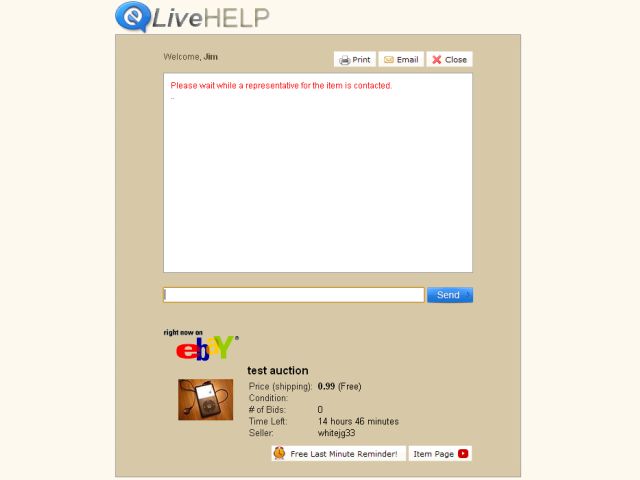 Key features

Note: Due to eBay getting rid of About Me pages, you MUST have an eBay store to use this app.

- Can use on eBay and on your website.
- Utilizes a small customer chat request window, so that you can use your desktop while staying online.
- You do not have to stay logged into eBay to answer chat requests.
- Set your status to offline or online at the click of a button.
- "Chat Now" button changes to a "Send me an Email" button when your status is offline.
- Multiple button styles to choose from, and can easily be switched between the different styles.
- Chat via smart phone with a free Jabber or Google Talk account.
Description

More Features:

- Save common answers, so you can easily insert them into the conversation.
- Mulitple button styles to choose from.
- Both you and your customers can print the chat log and even email it to themselves.
- You can access chat logs for up to 30 days.
- The details for the item (and a link to the page) the customer is looking at shows on your chat form.
- Create multiple operators to help you answer chat requests.
- Chat with your smart phone using our google talk or jabber instant messenger interfaces. Don't have a gtalk or jabber account? No worries it's easy and free to get one.

Why use eLiveHelp?

Buyers will appreciate being able to get answers right away, leading to more bids. Since we also developed eTextAlert we give your customers access to text and email alerts at no charge! You also have the ability to use the chat app on your website! You can answer chat requests from both places with our customer list window, and even on your smart phone using our google talk or jabber instant message interface. Have too many chat requests coming in? No problem, just create additional operators and get someone to help you.

Why subscribe to one of our apps?

- Fanatic customer support. Have a problem or question? Just let us know; we answer support requests fast.
- Forgot to cancel before your trial was up? No problem we'll refund you.
- Want a new feature? Just let us know, we're always looking for ways to improve our applications.
Additional resources
Application requirements
Supported browsers:
all modern browsers
Supported languages:
English
Supported eBay sites:
ebay.com
Required eBay subscriptions:
None
Application support
- Email using the Contact Us link above.
- Live chat or post a comment on http://ljapps.com/elivehelp-ebay-live-chat-seller-application/

L and J, LLC
This information is not available.
Also from this developer:
By L and J, LLC - Web Services
(released Aug 04, 2010)
Visitors to your auctions can get last minute text or email reminders so they don't forget about you. Also allows you to sign-up for watchlist alerts (free!) and seller alerts (feedback left, item sold, etc...)...
Categories: Listing, Marketing & merchandising
By L and J, LLC - Web Services
(released Mar 04, 2011)
Quickly find comparative pricing information for popular items on eBay. Such as the total number of listings, average price, and other details. Easily find the price point for your item and quickly update the p...
Categories: Listing, Research & reporting
By L and J, LLC
(released Jan 28, 2013)
Display your positive feedback reviews directly on your item pages! Updated 4-20-2017! Complies with eBay Active Content policy! Mobile ready, show related feedback, download your feedback to your computer, and...
Categories: Listing, Marketing & merchandising
Was able to customize the chat page after setup choosesome basic looks. Works really well.
Created By: thekingofdeals-0054
---
Great service at a reasonable price! Thanks!
---
5-Stars because it works great
Use this program with Xabber as described in the instructions. Works perfect with my andriod samsung phone. I don't have to look my computer or any technology. Love this app. This is the first program i have found that worked after spending $1000's of dollars looking for a chat for my websites that communicate with my phone. extremely easy to operate once setup, just a little patience during the setup process, its all worth my $5
---
why credit my $4.95 ? we don't know how to use it !
---
no good
Created By: 2015bestdealsonline
---
The app is good and is extremely beneficial, but it was down too many times or it wouldn't open it correctly to where I would have to unsubscribe, then subscribe again.
Created By: thebimmerchief
---
Works great!
Created By: sell-it-now-industries
---
Didn't say I HAD to have a store
having a hard time unsubscribing
Created By: bargainmedical
---
Prompt customer service - Works like a charm.
No it does not work with the new Ebay store design, but after viewing my analytics, I noticed by far my store landing page was the least used. Well worth reverting back to the old style store to give my customers a little better service.
Created By: storagelockerbuyer
---
Doesn't work with the new eBay store design
I know why it is so, but I do not want to revert my store design to the old style. Sorry guys.
Created By: united_parts_of_chicago
---
Now customers do not have to wait for hours to get an answer about a product. Very professional! Just like the pros use!
---
good but needs open time and closing time.
Sometimes we go offline all day long.. somehow there is hour like 9AM-5PM then turn it on if afer hours just end if there is exemption.
Created By: eclutchmaster
---
Easy setup/integration and works as advertised!!
---
14 Day Free Trial
$2.95/month Standard Membership
$4.95/month Gold Membership