eLiveHelp
By L and J, LLC
(released Dec 05, 2011)
A live chat application for you and your eBay customers! Chat with customers on eBay and your website, custom styled chat buttons, extremely easy to use app, integrates with IM clients so you can answer questions from your Smartphone, and more great features. Answer questions right away and get more sales!
Categories: Customer support, Marketing & merchandising
If you are subscribed or want to subscribe to this application please
click here
for details.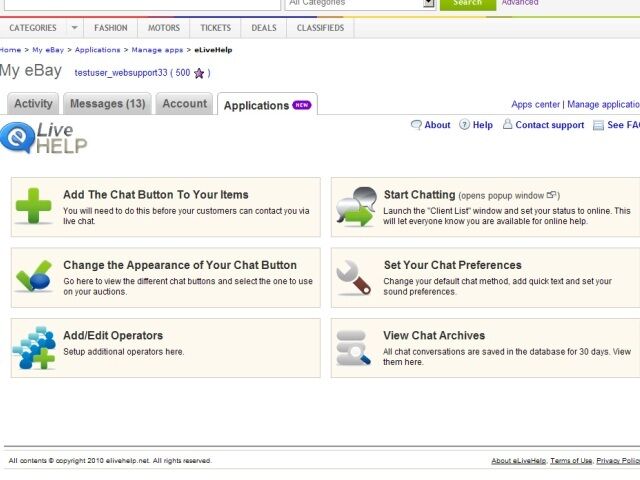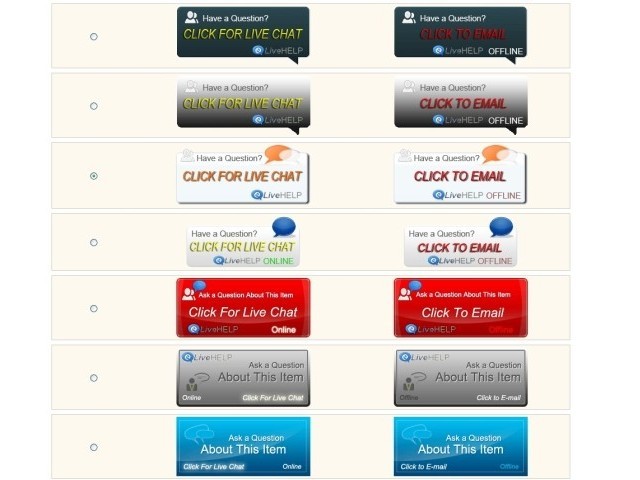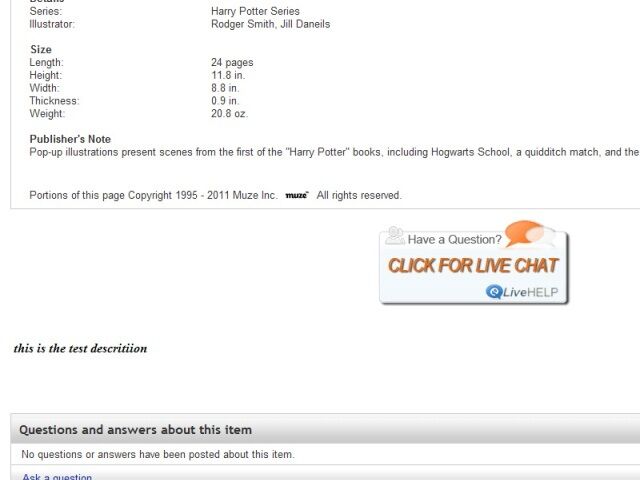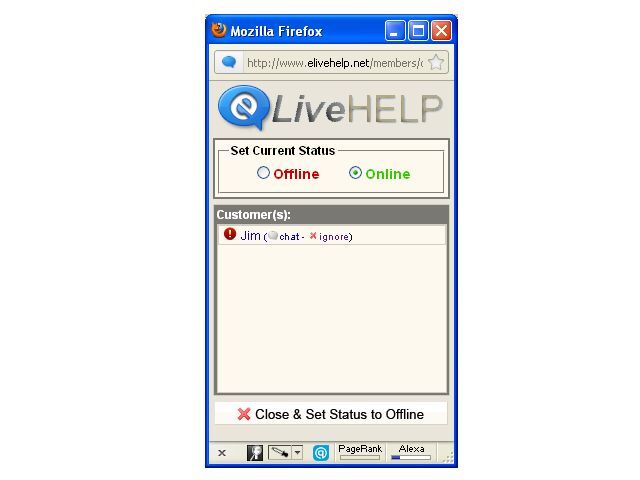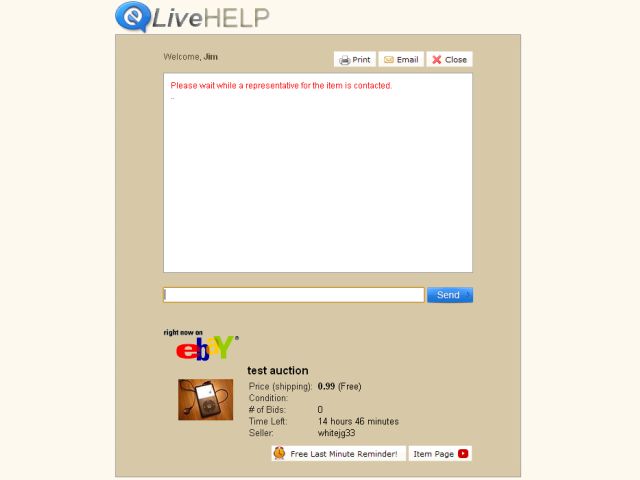 No at all what i expected.
---
Was able to customize the chat page after setup choosesome basic looks. Works really well.
---
Great service at a reasonable price! Thanks!
---
5-Stars because it works great
Use this program with Xabber as described in the instructions. Works perfect with my andriod samsung phone. I don't have to look my computer or any technology. Love this app. This is the first program i have found that worked after spending $1000's of dollars looking for a chat for my websites that communicate with my phone. extremely easy to operate once setup, just a little patience during the setup process, its all worth my $5
---
why credit my $4.95 ? we don't know how to use it !
---
---
The app is good and is extremely beneficial, but it was down too many times or it wouldn't open it correctly to where I would have to unsubscribe, then subscribe again.
---
---
Didn't say I HAD to have a store
having a hard time unsubscribing
---
Prompt customer service - Works like a charm.
No it does not work with the new Ebay store design, but after viewing my analytics, I noticed by far my store landing page was the least used. Well worth reverting back to the old style store to give my customers a little better service.
---
Doesn't work with the new eBay store design
I know why it is so, but I do not want to revert my store design to the old style. Sorry guys.
---
Now customers do not have to wait for hours to get an answer about a product. Very professional! Just like the pros use!
---
good but needs open time and closing time.
Sometimes we go offline all day long.. somehow there is hour like 9AM-5PM then turn it on if afer hours just end if there is exemption.
---
Easy setup/integration and works as advertised!!
---
I get the following error: "You have been logged out of the application. Please restart." Every time I open this app. No good for me, may work for others. I am using safari on a Mac Mini.
---
Good for speaking buyers or sellers
---
WHY!!! a product like this can be so useful but it just doesnt work well, tried to chat with my coworkers to see if it actually works... it doesnt, sometimes we pop up in the chat list, most of the time we dont, I think being never available or rarely available in live chat due to internal issues or lag is not worth annoying customers... Im so disapointed.........
---
Works great, looks good, great service!
I love this app! Works great, love the options available for the chat box. Josh is great and gets back to you quickly if you have any questions. Adding it to our website as well as our ebay listings!
---
Does what it says...kind of.
Does what it says, but for any store where you don't have 1000 orders a day, when a customer actually contacts you, you usually miss them (it gives you a beep but it's so uncommon to hear that you can't remember what it's for). Also, it doesn't show their eBay ID so you have no means of contacting them after the chat session (or lack there of). I would like to see the window flash when I get a message. I would also like to be able to see who I am speaking with and be able to look back over our conversations and see what was said. With those features, I'd definitely give it 5 stars.
---
Best Live Chat option in eBay Apps
This app works exactly like it says it does! (that alone is worth 5 stars) and Josh is a really nice guy that cares about his customers. I am really happy I found this in the app store. Don't waste your time on any others.
---
Perfect App for a better Customer Experience!
Customer Service - 5 Stars I've contacted Josh about the app and always got answered within a day. He even let me post a design of a button that will match my color scheme for my new template I'll be using soon. Ease of Use - 5 Stars YOU CAN..... Put this app anywhere in my listings via the HTML source code Copy and paste it anywhere you want Adjust and change the button style with just a few clicks Set automatic responses (Quick Text) to customers Change the Notifications Sounds Have multiple Operators View Chat Archives Put the Button on the listing I want it on or all of them. Which every works for your Business Use this App with Google Talk or Jabber Use this App on your Website Price - 5 Stars FREE 14 day trial you have nothing to lose Less than 10cents a day with Standard Membership Less than 17censt a day with Gold Membership Cancel Anytime No long term Commitments Tim, Global Mart Plus, LLC
---
Great service and easy set up chat system!
Inexpensive.. yep. Easy to put together.. yep. Looks good .. yep. Works... yep! My potential customers now have a fast, easy and efficient manner in which to contact me. Every listing now has a link which will open a conduit to ask a question, live or email, and give me the opportunity to close the sale. For 3 or 5 bucks a month.. that's golden!
---
I gave a try to both chat apps avail.for sellers. eLive Help is definitely the winner, it just does its job, it works! - Gtalk/Jabber redirection is very convenient to communicate with buyers via smartphone when I'm on the go. - If I'm not available my buyer can send a message by clicking the chat button and the button itself changes depending on I'm online/offline. - One of the excellent and my most favourite features - chat button can be used outside of eBay at my own website. - Different templates available for chat button. I love them! Competitors don't have anything like that. eLive Chat customer support is great! The developer replied to all my requests - sometimes dull and boring - and never left me alone. I never regret I chose your application Josh. Well done, keep it up! It's a must-have for every eBay seller who really cares about customer service. P.S. Regarding higher than 4.95$ charges: my 1st month bill was something like 5.11$ and all others are 4.95$ as stated.
---
I never has one person live chat with me
d
---
I get a lot of questions about my products during the Halloween Season. So I was looking into a Live Chat aspect for my eBay listings. This APP absolutely does what it says! Plus, Josh is awesome with Customer Support! He even let me make my own buttons and uploaded them for anyone to use. How cool is that!?! Definitely recommend this APP if you sit at your computer most of the day anyway.
---
---
only had this app one day and love it!
I had a question, emailed and got a response in less than 12 hours!!! I'm not sure if I'm going to keep this app, but ONLY because I don't know if it's worth the cost versus how many listings I have per month. But works great on my computer AND iPhone!! Thanks Josh!!!!!
---
Been paying money for six months for a service that did not work. Technical support is lousy and have no clue what they are doing.
---
Superb app so far! With having it's own chat client, very easy to use. I like it!
---
Cool application - Excellent tech support - Easy to put contact buttons on pages
I needed to put a tech support email link on my store page -with all the regulations from EBay about links this App was my best option to get that function and stay within EBay policies - Tech support (Josh) was quick and friendly - There were a few bugs at first because of how I needed the buttons to respond but they were quickly resolved. I can put the buttons on my Custom Pages including a page for tech support so my customers can email me directly when I'm not on line to chat - The buttons on the listing pages do go thru several steps due to "EBay's Helpful answers" but apparently experienced ebayers are used to that. With a better understanding of HTML and Josh's help I can put the buttons pretty much where I need them to be. Over all this is a cool inexpensive App that does most of what I needed it to do although it still has to go through EBay's messaging process. The big "Click to Email" buttons are a better incentive for customers to ask questions and encourage communication.
---
I was amazed at the very fast and helpful service I received from e Live Help.
---
HORRIBLE CUSTOMER SERVICE. NEVER ANSWER ANY EMAILS
Sent now 5 emails over 2-3 weeks and not 1, not a single one has been answered. This has got to be the worst customer service ever. How do you not answer a single email over 2-3 weeks?????
---