Display Feedback
By L and J, LLC
(released Jan 28, 2013)
Display your positive feedback reviews directly on your item pages! Updated 4-20-2017! Complies with eBay Active Content policy! Mobile ready, show related feedback, download your feedback to your computer, and even hide certain feedback! Get a step-up on your competition by gaining buyer trust as soon as they see the item description!
Categories: Listing, Marketing & merchandising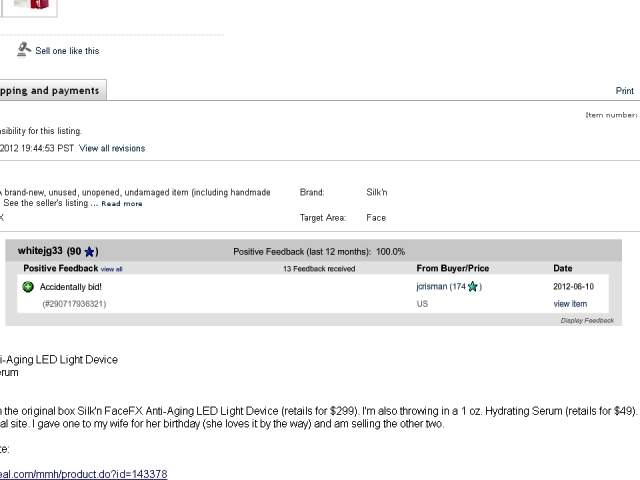 Key features
Updated 4-20-2017!

- Complies with eBay Active Content policy!
- Show feedback related to the item. Great way to show reviews of the item they are looking at.
- Mobile friendly.
- Hide feedback you don't want to show. Sometimes even a positive review should be hidden.
- Download your feedback in CSV format to your computer.

- Gain an advantage over your competitors by displaying positive feedback reviews directly in your ebay item description.
- Display all of your recent positive feedback or only feedback related to the current item directly on your item detail pages.
- Feedback Display Window is customizable with different colors, and listing all at once or one at a time.
- Set the app to auto add the Feedback Window to all new and relisted items, grab the code and insert it into your auction template, or pick and choose which items to display it on!
Description
Gain buyer trust, sell more items, and get a step up on your competition by displaying recent positive feedback directly in the item description. Buyers will appreciate being able to see positive feedback without having to click through to your feedback page.

Why subscribe to one of our apps?

- Fanatic customer support. Have a problem or question? Just let us know; we answer support requests fast.
- Forgot to cancel before your trial was up? No problem we'll refund you.
- Want a new feature? Just let us know, we're always looking for ways to improve our applications.
Additional resources
Application requirements
Supported browsers:
all modern browsers
Supported languages:
English
Supported eBay sites:
ebay.com
Required eBay subscriptions:
None
Application support
- Email using the Contact Us link above.

L and J, LLC
This information is not available.
Also from this developer:
By L and J, LLC - Web Services
(released Aug 04, 2010)
Visitors to your auctions can get last minute text or email reminders so they don't forget about you. Also allows you to sign-up for watchlist alerts (free!) and seller alerts (feedback left, item sold, etc...)...
Categories: Listing, Marketing & merchandising
By L and J, LLC - Web Services
(released Mar 04, 2011)
Quickly find comparative pricing information for popular items on eBay. Such as the total number of listings, average price, and other details. Easily find the price point for your item and quickly update the p...
Categories: Listing, Research & reporting
By L and J, LLC
(released Dec 05, 2011)
A live chat application for you and your eBay customers! Chat with customers on eBay and your website, custom styled chat buttons, extremely easy to use app, integrates with IM clients so you can answer questio...
Categories: Customer support, Marketing & merchandising
Have to wait a year to cancel this plan if you subscribe. 1 star.
Been charging me for 8 months and have not used
Created By: yourfishstore-freeshipping
---
You give my buyers positive feedback them proceed to give them bad comments 1 of 5 you do this...
Just look at my feedback given to buyers and you will see what's happening.
Created By: retired2havinfun
---
Doesn't work and no support
When I could not get it to work I contacted support and they came to me and wanted information. I supplied the info and never heard back. After contacting them three more times I finally decided to unsubcribe.
Created By: esalesprocess
---
App works fine for me and nicely displays feedback.
This application was easy to set up and execute. It works as described for me and I am happy to use it as a listing enhancement.
Created By: rockinretrorelics
---
can not show feedback automaticly
can not show feedback automaticly
---
It works fin for my purposes but...
It works fine for my purpose of adding the latest overall feedbacks from my seller profile, but it adds two html br lines at the beginning of the code that are annoying to go back and remove manually. Even if you remove the feedback on you listing you will have to manually remove the two html br lines.
Created By: techinsiderdeals
---
Easy to use and helps people to know who they're dealing with!
Created By: grandmasterdyke
---
I liked it a lot. I believe it helps customers see our feedback for that particular item which helps the sale. A+++
Created By: thekingofdeals-0054
---
They're support is stellar - 6 stars of of 5
When there was a problem with an expired Token, Josh as support answered and fixed my problem almost immediately. Thanks guy! :D
Created By: ministry_ideaz
---
Had issues with the app - contacted customer support. Never got a reply. Removed
Contacted your company for assistance and never got a reply. Poor customer service.
Created By: designer_deals_2_u
---
(There have been no reviews for this application.)
It does not show my feedbacks! I have canceled subscription, but it has not been canceled. And they sent me an invoice !!! Not recommend.
---
I like the new display Josh keep up the great work! Had some problems but it was taken care quickly!
Great customer service!
Created By: keystoneequipmentcare
---
Very useful app!
Created By: deadseabrands
---
Very Bad Company. It is scam. don't use it.
I canceled my sus las year and have contacted them so many times to cancel the invoice. They ignored my email and keep sending me the invoice each month for a long time. And this app is bad and don't use it. Bad!
Created By: yzfashionbridal
---
Some people may work other people may not that is my case.Try if you want nothing to loose.
---
Great Idea - Very easy to use!
Great way to show the +comments on a listing. WELL DONE!
Created By: pittsburghshop
---
I have already canceled my subscription and still charge me the fee.
Created By: yzfashionbridal2014
---
Sales have more than doubled
I was skeptical about purchasing this app but it works great and my sales have more than doubled in the last two weeks. I really shows off the hard work of earning great feedback to new potential customers!
Created By: marchantbrian
---
14 Day Free Trial
Only $12.95 for an entire year!