Item Pricer
By L and J, LLC - Web Services
(released Mar 04, 2011)
Quickly find comparative pricing information for popular items on eBay. Such as the total number of listings, average price, and other details. Easily find the price point for your item and quickly update the price from the application. Only designed to work with popular items (books, dvds, ipods, etc...).
Categories: Listing, Research & reporting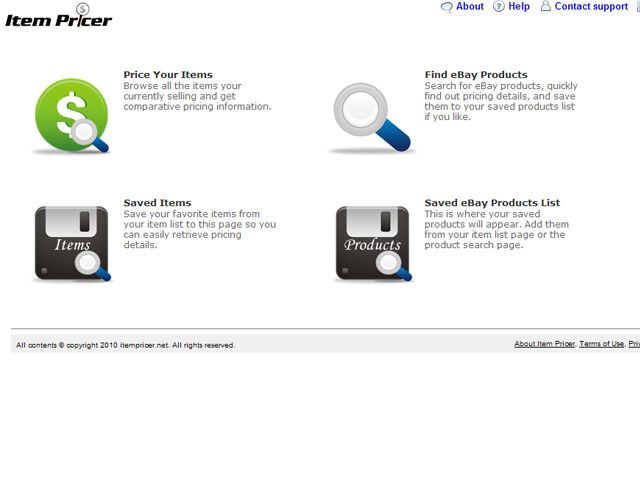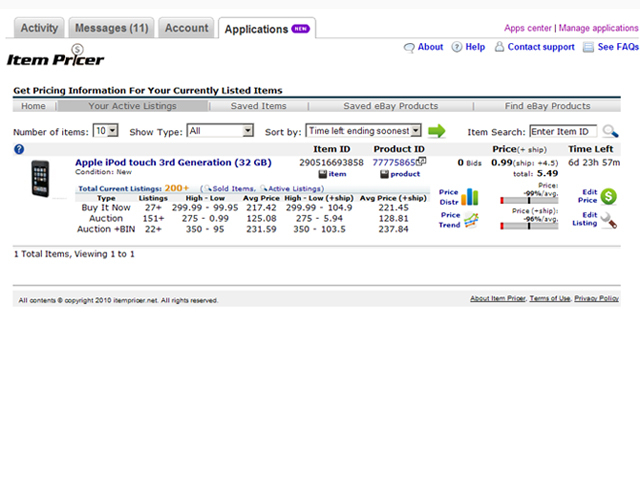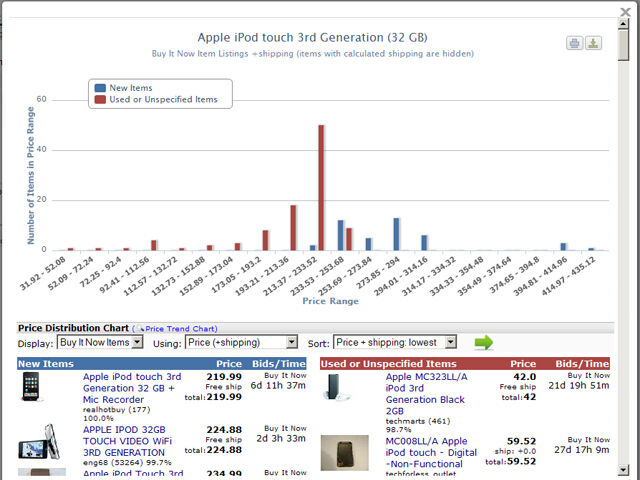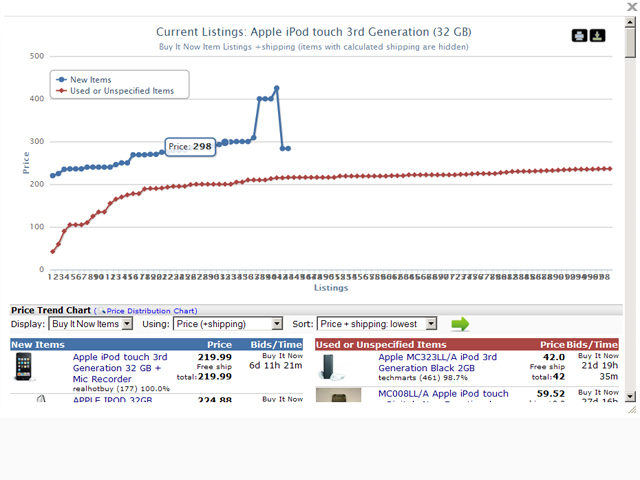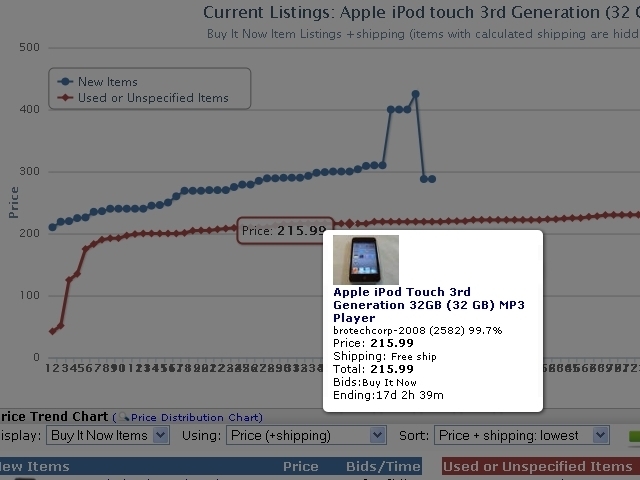 Key features
This application is only designed to work with popular items on eBay. Items that have an eBay product associated with them. It is not designed to work for unique items, such as antiques. The best it can do for unique items it return similar items in a list. It is a simple app designed to save time pricing popular items. Please review accordingly.
Quickly return pricing information for popular items on eBay
View your competition in graph/chart format.
Easily update the price of your item without leaving the application!
Allows you to see how many others are selling your item and the prices they are listed.
Save time by not having to do a search everyday to make sure your item is still priced competitively.
Research eBay product price information, and save the product for future reference.
Description
What Exactly Is Item Pricer?
It allows you to get comparative pricing information for the items you are selling based on eBay product search. If no product is associated with your listing then it does a similar items search. You are able to look at all of your items and see how many others are out there and the average prices for them. You can also quickly pull up comparison charts with detailed information about your competition. Easily change your item price right from the application.

Note: This application works best for popular products such as books, movies, ipods, etc... It doesn't work so well for unique items like antiques. It can still save you time since it automatically searches for similar items, but this may or may not be useful depending on what you are selling. Please feel free to try out the trial and check it out for yourself. Let us know if you have any questions.
Additional resources
Application requirements
Supported browsers:
All modern browsers.
Supported languages:
English
Supported eBay sites:
ebay.com
Required eBay subscriptions:
None
Application support
Email us at support@itempricer.net
Contact us online at http://www.itempricer.net/contact.html
L and J, LLC - Web Services
This information is not available.
Also from this developer:
By L and J, LLC - Web Services
(released Aug 04, 2010)
Visitors to your auctions can get last minute text or email reminders so they don't forget about you. Also allows you to sign-up for watchlist alerts (free!) and seller alerts (feedback left, item sold, etc...)...
Categories: Listing, Marketing & merchandising
By L and J, LLC
(released Dec 05, 2011)
A live chat application for you and your eBay customers! Chat with customers on eBay and your website, custom styled chat buttons, extremely easy to use app, integrates with IM clients so you can answer questio...
Categories: Customer support, Marketing & merchandising
By L and J, LLC
(released Jan 28, 2013)
Display your positive feedback reviews directly on your item pages! Updated 4-20-2017! Complies with eBay Active Content policy! Mobile ready, show related feedback, download your feedback to your computer, and...
Categories: Listing, Marketing & merchandising
Very confusing. Help in product doesn't help at all.
Was very interested in the pricing metrics and the whole concept. I can't say that you've pulled it off. Maybe I'm missing something, but your product help didn't help me find the pricing trends at all and was just way too cluttered and confusing. I spent more than enough time trying to see what others are selling their similar items for and get help with pricing and this program just didn't do that in my opinion.
Created By: mattbuyshouses
---
A great way to drill down when making ebay buying/selliing decisions.
.
---
Easiest app for pricing controls so we can appease the eBay gods.
---
Item priceing was off badly
good app but bad princeing
---
Takes the guessing process out of the listing .
Created By: areeksenglish
---
Developer ignored my cancelation many months ago. Email reference id: [#9fc322af27ce442fa748fac508c3
App wasn't working and I believed I had canceled. Automatic payments continued, although I was not getting email notifications. For some reason, (no credit cards are involved), auto payment did not occur in Oct, thus putting me in a delinquent status. I have paid the $4.90. However, in the attempt to pay, I "authorized" auto-pay again. My ebay activity isn't very high, right now, so I have no need for this app, whihc wasn' t working well when I tried to cancel the first time. I have continued to fund automatically without knowing it. When I tried to follow on-line instructions about caneling this subscription, there is no "my money" field that I can find. So, PLEASE CANCEL THIS SUBSCRIPTION. IMMEDIATELY and confirm that you have done so. When and if I ever want to use it again, I'll start it up again. That's easy. Just can't find how to unsubscribe. Tacky.
Created By: serendipityjean
---
Works great for dvd. Seems to not be able to open at times on comp and tablet or phone.
Created By: awlmoviemaddness
---
14 day no-obligation free trial
$2.45 monthly fee