PhiConnect Return Service
By PhiConnect.com
(released Oct 19, 2009)
Reduce buyers' disputes, phone calls, e-mails, negative feedbacks and increase buyer satisfaction. Accept and manage return requests and inquiries online with streamlined returns and integrated customer communications.
Categories: Customer support, Shipping & payments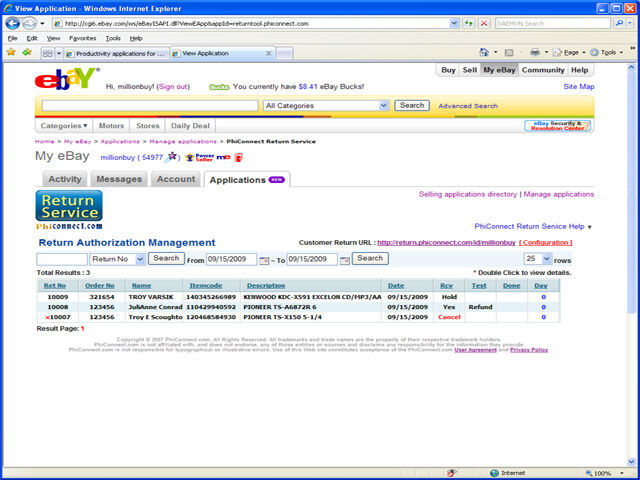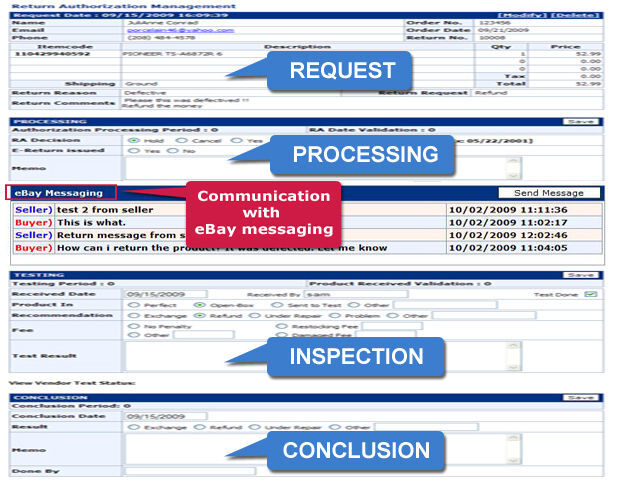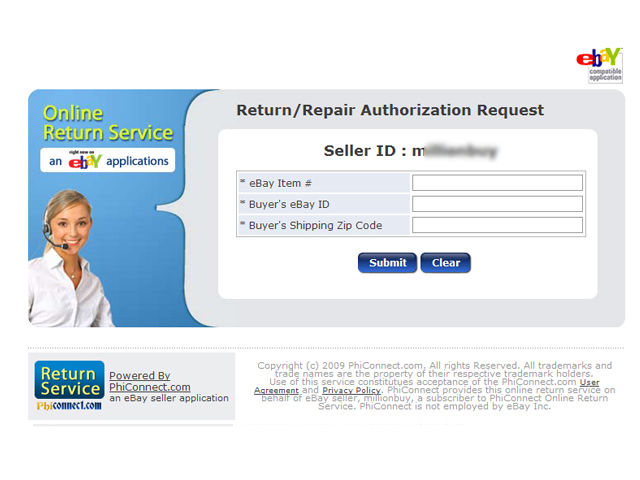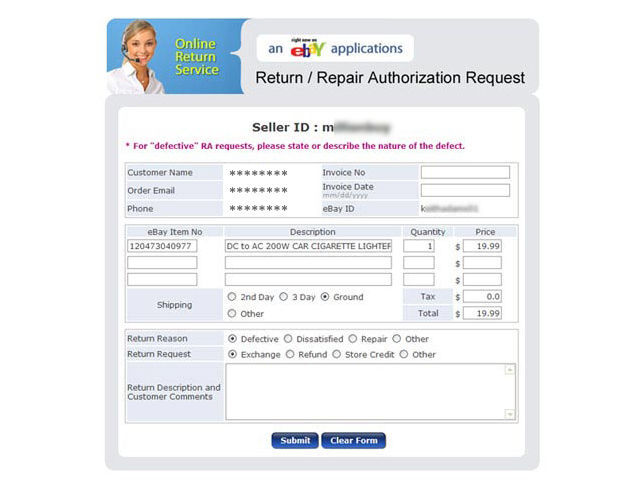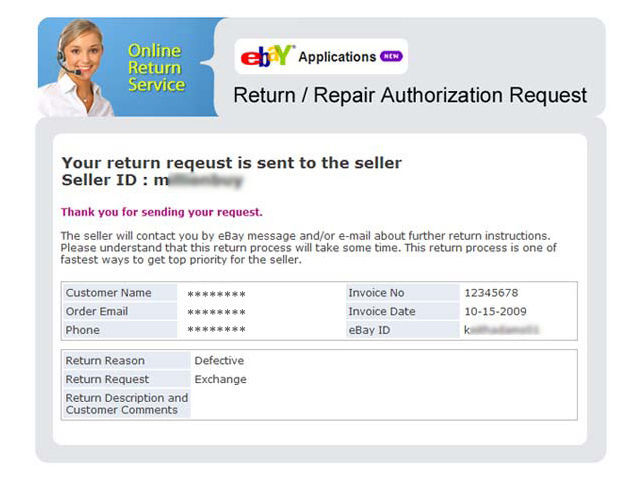 PhiConnect Return Service
Key features
Key features
Online return form in a customized URL for a seller to attach to the seller's e-mail template and/or listing template (ex: http://return.phiconnect.com/id/your-eBay-id )
Buyers will send their return request after filling out the online return form
RA # auto generation
Send and receive eBay messages and keep track of records automatically
4 step easy management: return request, authorize/deny, inspection, and conclusion
Reduce disputes, phone calls, e-mails, and negative feedbacks
Increase buyers' satisfaction
Description
PhiConnect provides an online return service so that buyers and sellers can manage better return processes with less Paypal disputes, phone calls, e-mails and negative feedbacks. Once you have signed up for this 'Online Return Service', you will receive your own personal link, http://return.phiconnect.com/id/your-eBay-id. You can attach this link to your e-mail template or listing template. Now, buyers will know where to start for their return/repair request. There is a growing number of Paypal disputes and eBay negative feedbacks. This is because buyers don't know how to request for returns and sellers are not there when buyers need their help for a return.
Provide a 24 hour Online Return Service to buyers for better communication
Store all return requests and inquiries in one database
Respond to your buyers at your convenience by using eBay messages
Don't worry about your e-mails being sent to a spam folder
Reduce time and money for return processes
Improve in-house management with notes
Reduce Paypal disputes and negative feedbacks
Increase DSR
Return Processing is one of the problem areas for all e-tailers. Now, you can provide PhiConnect Online Return Service to your buyers at flat rate of $9.95 per month. Buyers can easily fill out the return form online and wait for your response.
Additional resources
Application requirements
Supported browsers:
Internet Explorer 6 and later, Firefox 2 and later
Supported languages:
English
Supported eBay sites:
ebay.com
Required eBay subscriptions:
None
Application support
Application support
E-mail support available at info@phiconnect.com
Tutorial video is available
PhiConnect.com
PhiConnect, an eBay Compatible Software developer, was founded by 10 year eBay seller experienced Titanium PowerSeller in 2007. PhiConnect is mainly providing eBay management tools and solutions which include inventory control, accounting, reports, listing tools, invoicing, UPS, USPS, FedEx direct label printing, and online return service. Since many eBay sellers are having hard time to manage return processes, PhiConnect decide to offer low cost online return service solution to eBay sellers and buyers. PhiConnect Return Service solution is the first and only return process solution for eBay and etc. E-Mail: info@phiconnect.com Website: http://www.phiconnect.com
not user friendly, offers to give more support, who needs to invest the time in an app that also cot
crappy app
---
This Return Inventory Management System but it doesnot manages anything
I have never received any update regarding this Application,whether the item has been returned or not.Had a pathetic experience.
Created By: majesticleather2016
---
smart Idea but useless on ebay
This application is "ingenious" but useless at the end because it is not easy for buyers to see! I have had this for more than a month or 2 and did have some returns/claims/disputes .....that tells me that buyers can't see it .. they just can't and it defies the whole purpose!!! I am about to cancel it and may get it later if they fix that problem...
---
Always pay for merchandise at auctions
---
The application is bad due to the fact that you have problems from the begin you start and plus no one you can call but you have to email. I'm not now because I've cancelled the free trail and they are still charging me until this day so I'm really mad and they seem like it was ebay fault. While ebay say it's still pending contact philconnect to remove it and cancel.
Created By: chrischris0844
---
It is perfect for keeping up with returns!
Just wish it had a few more features built in like auto uploading tracking or printing prepaid labels.
Created By: discountoemradios
---
Monthly Flat Rate : $ 9.95 / month

All subscribers get a 15 days free trial period !