Teapplix TConnect
By Teapplix Inc
(released Jan 06, 2011)
TConnect takes all your eBay orders and exports them to QuickBooks. We give you the option of tracking inventory, sales totals, taxes, and fees.
Categories: Finance & accounting, Inventory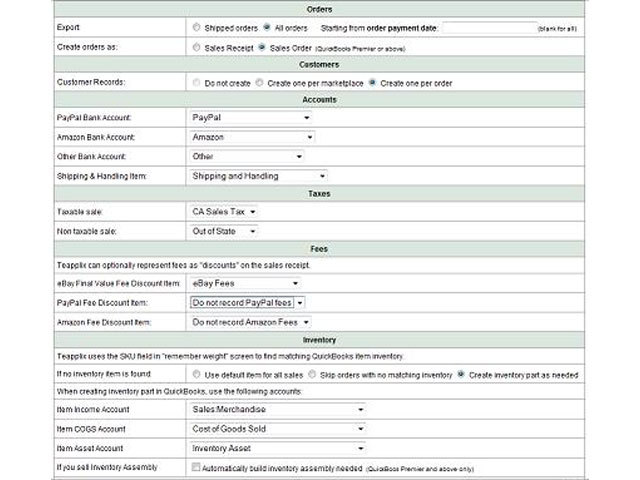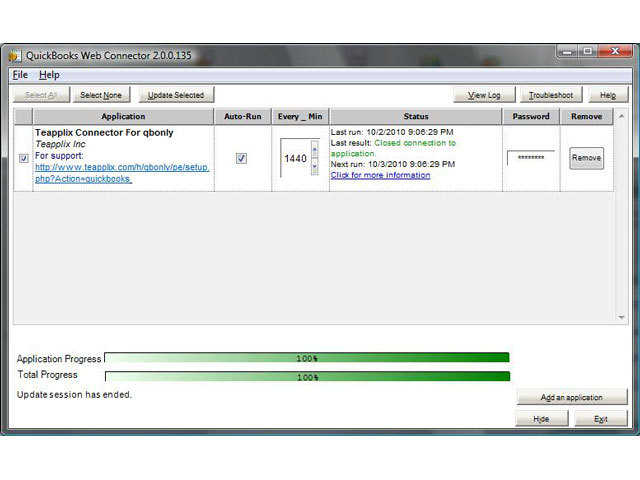 Key features
Creates Sales Receipts or Sales Orders
Line item for sales price, shipping & taxes
Create customer records
Map to one default item or specific inventory
Support inventory assembly and tracking inventory at component level, automatically build inventory assembly
Description
Teapplix TConnect exports your eBay sales into QuickBooks automatically. Saves you time and energy, eliminates error doing manual data entry or copy paste.
TConnect enables you to track your sales, shipping and taxes. It also helps you to track your inventory levels in QuickBooks.
Additional resources
Application requirements
Supported browsers:
ie, firefox, safari, chrome
Supported languages:
English
Supported eBay sites:
ebay.com
Required eBay subscriptions:
None
Application support
Support provided via email at support@teapplix.com or phone 650-516-6058.
Teapplix Inc
Teapplix automates, organizes and manages shipping and accounting integration for small and medium-sized businesses operating on the eBay and Amazon commerce platforms. Our web application makes shipping and accounting faster, easier and less expensive than the alternatives, saving small business owners time, energy and money.
Also from this developer:
By Teapplix Inc
(released Jan 28, 2010)
Generate up to 2000 labels in one batch! Quickly print out shipping labels from saved product information including weight, dimensions and shipping options.
Categories: Shipping & payments
Does not work
Created By: lebrunswarehouse
---
These fools still charging me after i cancelled a month ago!!!!!!!!!
Created By: kcelectronics_by_briancasey
---
do not like the way you are tricked into getting an app most small sellers and use and are charged f
same day i tried apps, i called and said they were not for me. hard to use and i can only list 125 items with ebays new restrictions. I called right after trying and since I usually let my husband handle ebay just now noticed all the charges. I want a refund requardless of your hidden policy information
---
NOT WORTH IT APP DOSENT WORK AT ALL
Created By: bostexas-wholesaler
---
Just a little expense since i have 2-ebay stores, great program save hours of laber
---
PIECE OF SH!@ APP NOT WORTH THE HASSLE OR THE EFFING $$$$$
USER BEWARE!! READ ENTIRE REVIEW BEFORE SUBSCRIBING! When using the QuickBooks Web Connector one in every 5 orders is missing information leading to inaccurate inventory and inaccurate financial records. ABSOLUTELY UNACCEPTABLE when running a professional business. The inventory inaccuracies led to items running out of stock and costing us over $1,500 in lost sales. After subscribing they started overcharging us by $5 each month. They said the price went up. I had to fight with them to get the overcharge's reversed due to eBay apps page displaying a different price. All customer records have to be saved under one customer. Can't even import customer info. I wish I could give this sorry excuse of an app 0 stars and tell the developers to stick it. They have cost us valuable customers, time,and profit. We tried this to save time on data entry to increase productivity but all it did was double the effort. This is a complete waste of money and time especially after mapping all 1200 items.
Created By: square_1_gaming
---
Excellent Bookkeeping Tool
This is the best app for Quickbook's Users. Thanks Again and Great Support
---
Nice idea, bad implementation. Some orders wasn't exported, and I have no idea why. I'm an IT specialist with more than 15 years of experience, but less qualified people may found this application very unfriendly and too complicated at the setup stage. I'm going to the Outright. Less options, more time.
Created By: united_parts_of_chicago
---
14 day free trial. After that $14.99 a month.