Store Design Themes
By PMIT Inc
(released Mar 22, 2010)
Apply animated professional design to your current eBay store. Only $3.95 per month.
Categories: Listing, Marketing & merchandising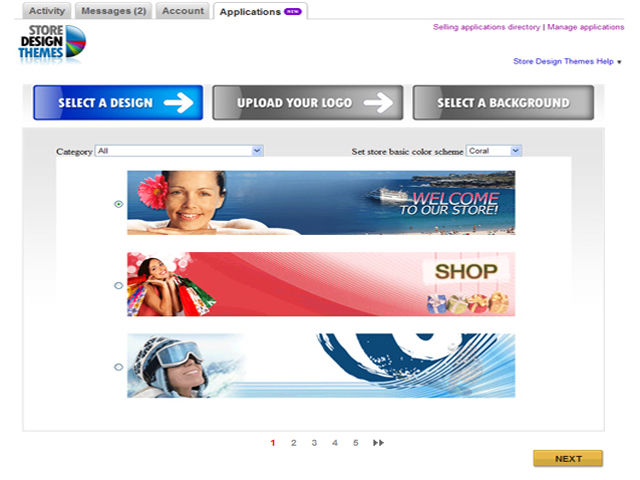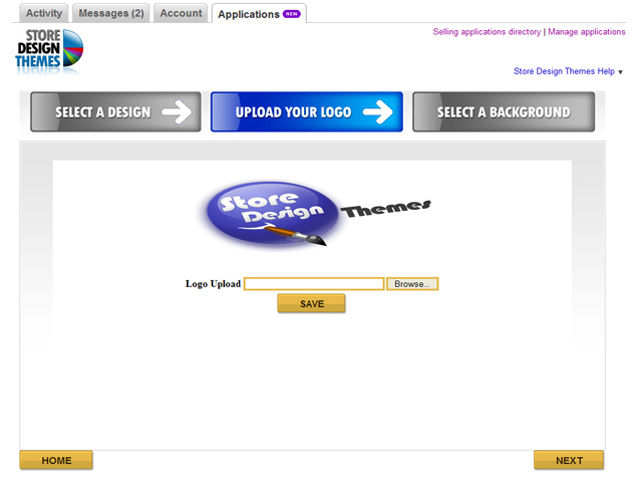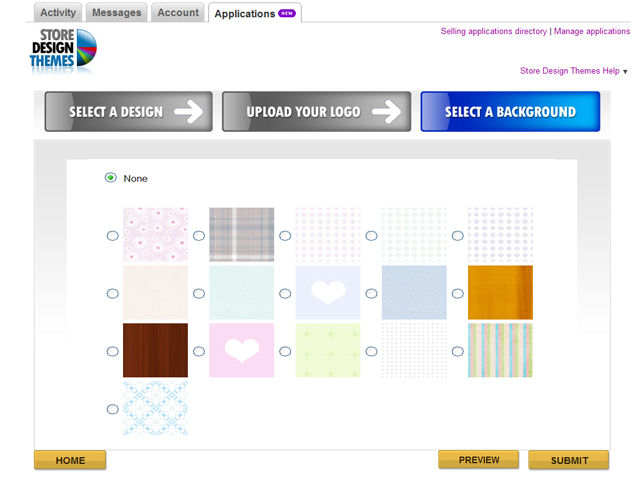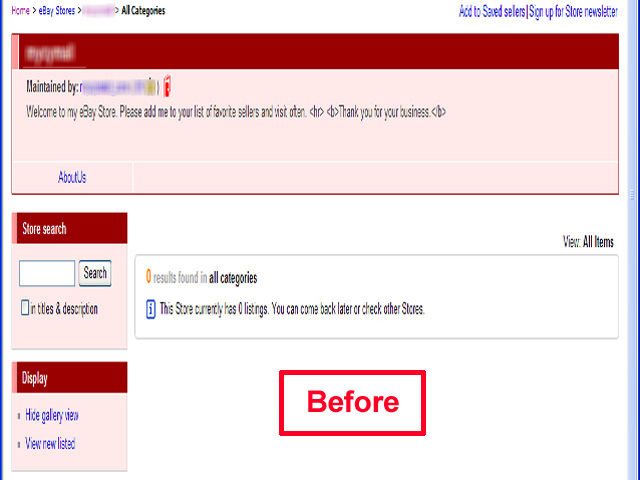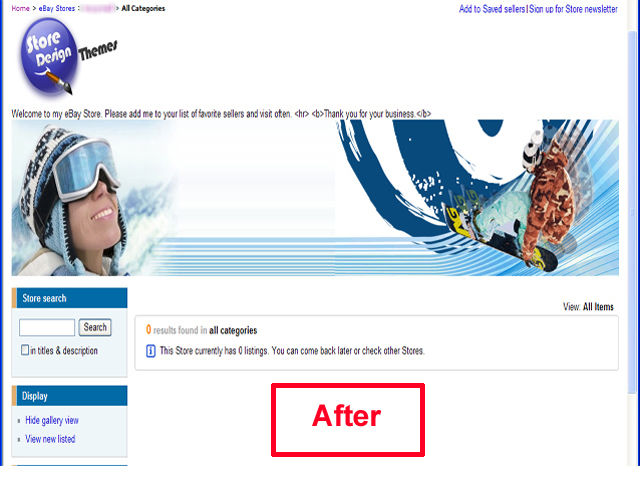 Key features
Apply animated professional design to your current eBay store easily.
Animated professional design *
Unlimited use for only $3.95 per month
Very simple to use
500+ Professional designs
Upload your logo
Select a background
Description
Store Design Themes is a simple and intuitive way to provide a custom professional appearance to your eBay store design. Allow your store to make a great impression with your buyers and make more sales!

** Free trial only available for the first time you subscribe to the application.
Additional resources
Application requirements
Supported browsers:
modern web browsers
Supported languages:
English
Supported eBay sites:
ebay.com
Required eBay subscriptions:
None
Application support
info@myPMIT.com
PMIT Inc
The PMIT is a leader in ecommerce services. We are one of the leading independent PayPal management services , design templates for eBay , ecommerce and have been providing tools for eBay sellers since 2007.
Also from this developer:
By PMIT Inc
(released Dec 17, 2009)
Manage your PayPal transactions directly from my eBay. Automatically match eBay and PayPal transactions, compare paid amounts and postal codes from one place!
Categories: Finance & accounting, Shipping & payments
By PMIT Inc
(released Sep 24, 2012)
Automatically apply professional looking listing themes to your current eBay listings.
Categories: Listing, Marketing & merchandising
By PMIT Inc
(released Jan 31, 2013)
This application will allow the sellers to monitor where their listing is on the Best Match search results and provide general recommendations on how to edit the listing to improve rankings on the Best Match se...
Categories: Listing, Research & reporting
By PMIT Inc
(released Feb 18, 2014)
Show your past positive feedbacks on your listings and assure Buyers to buy with confidence.
Categories: Listing, Marketing & merchandising
Worked great, still working actually. But I can't open the app or make any changes. I keep getting the same error message. I have contacted customer support numerous times of the course of months with no response.
---
Useless, waste of time. Doesn't work. :(
---
Ads very little value to your store design.
Created By: weirdstuffantiques
---
Can't get the design to load
The instructions on how to get the design to load if it doesn't are weak at best. Step by step instructions would be nice. I am canceling.
Created By: wholesalesince2004
---
This application was created and then abandoned! DO NOT SIGN-UP OR GIVE THEM MONEY
I paid $3.95 for (6) six months with promise to fix the (false) cookie error message. Why do I say false? Because I had (2) two stores with store design themes since 2010 and one worked and one did not but they still charged a total $7.90 per month ($3.95 each store) and would never help me fix the (1) one store that was not working. They promised for months to credit my account but this did not happen.
---
Great Customer Service/Awesome App/Highly Recommend
Great Customer service and amazing app. I will be a long term customer highly recommend
Created By: jenp2012-2012
---
(There have been no reviews for this application.)
No help at all from PMIT.
You are strictly on your own. I have emailed them 3 times for help and NO response.
Created By: haleighbugscloset
---
Cant cjange wallpaper. Ive spemt all aftermoon and half tje nigjt trying to fix tjis and it wont chamge!
---
I am paying a monthly fee and not recieving any store design or help.
This is terrible. I am locked into paying for nothing. No help No refunds. I signed up for a store design, then I never could locate PMIT again. No customer Service Phone is no longer in service.
---
Has great theme but not good
I only got the chance to try it out for few minutes and know right away its not good and its not a keeper.It has great and alot of theme to choose from,plus you can add your own mix into it.I like the fact that after the theme is apply to your store it doesn't show the name of the app that create it like some other apps.but what i hate the most is that when i revert back to my original ebay store setting theme it got messed up..it is completely change from the settings i had before.so for those we looking to try it out,keep that it mind that if you decide to no longer use it and revert back to original settings those settings might not be the same anymore.
Created By: johnandrene2011
---
DID NOT WANT OR SUBSCRIBE!
TERRIBLE! WANT ALL MY MONEY BACK!
Created By: thetreasurechestinbama
---
(There have been no reviews for this application.)
Generic poorly designed headers to choose from. Backgrounds are also poor.
THE IDEA OF THIS APP IS GOOD HOWEVER THERE IS NOTHING GOOD ABOUT IT! I've also tried to cancel my subscription and they keep on taking my money... The entire app is poorly executed, has no artistic qualities what so ever and has been a complete waste of time and money! there were only 5 or 6 out of a few hundred that were even remotely useable and I finally settled on what was I'm sure intended to be a furniture store header for a wig store. also...THE HEADERS THAT HAVE FLASH ANIMATION ARE ABSOLUTELY THE WORST. I'M EMBARRASSED TO EVEN ADMIT USING THIS. EBAY... GET SOMEONE ELSE IN HERE THAT CAN MAKE THIS WORK BY OFFERING COOL HEADERS TO CHOOSE FROM!
---
Monthly Plan
Unlimited access
Only $3.95 per month
14 Days Free Trial *

Yearly Plan
Unlimited access.
$43.45 per year ( one month free )
14 Days Free Trial *

* Free trial only available for the first time you subscribe to the application.