Thank You Emails
By 3DSellers
(released Mar 14, 2014)
Easily increase repeat sales with Thank You Emails! Thank You Emails will automatically send a Thank You Email to each of your buyers recommending other items that you offer. This way you can build great customer relationships AND increase repeat sales.
Categories: Customer support, Marketing & merchandising
If you are subscribed or want to subscribe to this application please
click here
for details.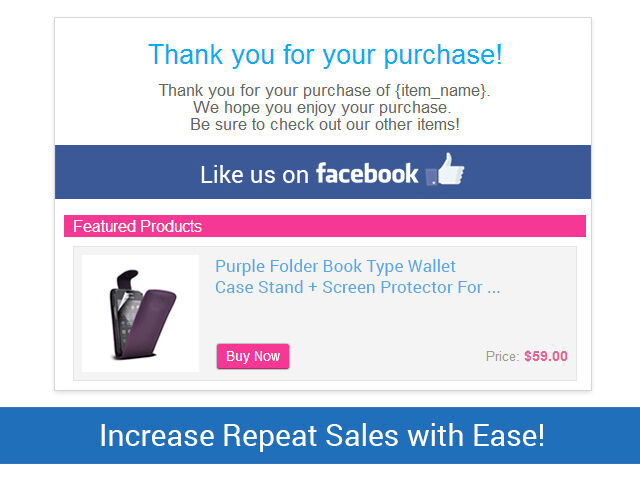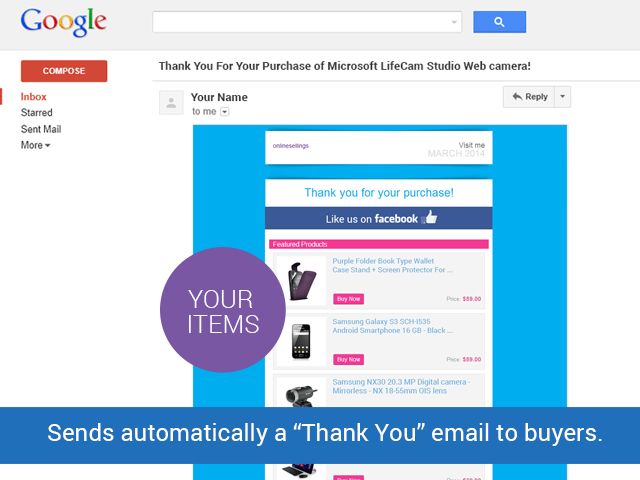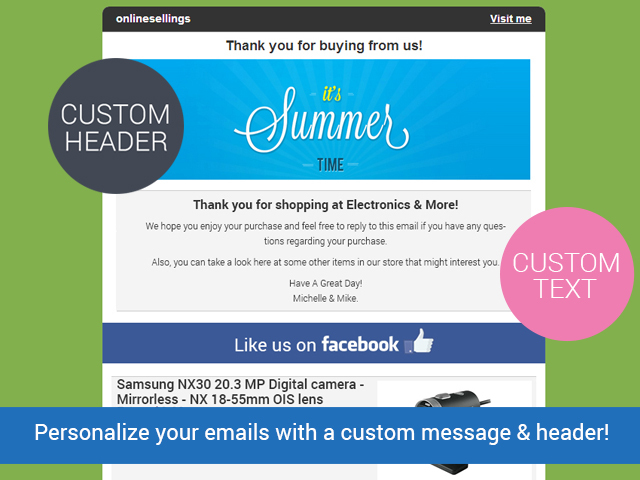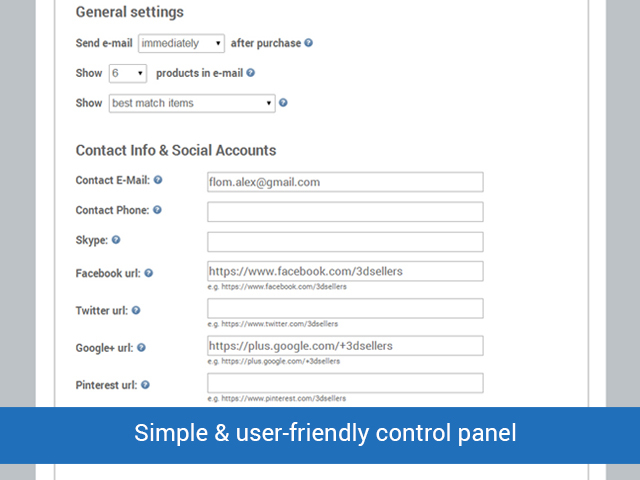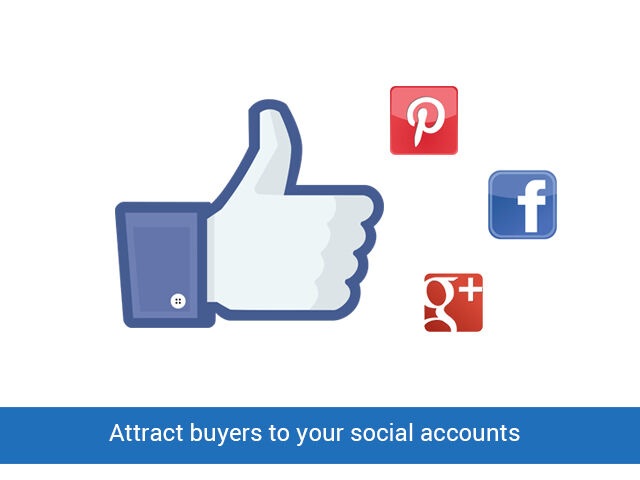 Since subscribing, I have had so many compliments on the Thank You emails sent
I have had numerous repeat customers due to the Thank You emails. I know that some don't open and read them but if it works for getting my customers to my store then it is well worth the cost per month. Thanks again
---
Best way to thank a customer on eBay
It's like customer service with cross selling at the same time. It doesn't get any better than this... the bomb
---
Thank You Emails has dramatically improved our feedback remarks about good communication. Buyers like getting information about their purchase and this application helps to do that. Would recommend that you try this. We have not had a single complaint from customers about too much communication.
---
Does what it claims...Great instrument to use for your Customers
---
so many people has complimented me on this application
so many people has complimented me on this application
---
I love this system to make sure that my customers are well taken care of.
---
---
Works well, and the free price makes it even better.
---
I seriously love this service and highly recommend! The availability to access customers is the best way for creating repeat business and build buyers adding you to their favorites. I love the communication it builds my customers and myself. Very personable!
---
Provides a lot of repeat customers
---
Highly needed app. I often forget to thank those customers that I highly value. There are some awesome buyers out there that deserve a thanks! Great app!
---
Does what it's supposed to do really well.
Provides an opportunity to present other items in which the buyer may have interest.
---
This is the best thing since sliced bread! Makes keeping in touch with your customers very easy! Just make a few simple design choices and let the app do the rest!
---
I get several add-on orders because of this automated e-mail solution. My customers are also happier because they get a e-mail when their fish have been shipped.
---
---
It works immediately. Love it. More apps like this one please thank you
---
---
---
Great app very helpful customer service
After I finally figured out how to contact customer service, they responded immediately and fixed my problem. Great app, emails look awesome, great customer service!!
---
Great App! Drives additional business
Seems to drive additional business.
---
Had this app for over a week and not one email has gone out.
---
---
Love this feature, Save me some time and hopefully boost sales
Suggest customers other items that might interest them. GREAT idea
---
Way for them to make money for pushing YOUR sales.
Cannot set the pushing of your products to 0. They couldn't make money off the clicks if you did; so it makes sense. Unfortunately, I don't care to ram my products down my customer's throats to make these people more money. Great idea, though.
---
Can not use because their SSL sertification is invalid.
I keep getting access errors that I can not bypass. sec_error_unknown_issuer
---
More of a product pusher than a thank you email app
Not at all what the title suggests. This is mainly an app to push more of your items down the throat of your buyers than it is an app to send them a thank you message.
---
Limited customization, but a great marketing tool. You set the time for the emails to be sent after sales, shipping and reviews.
---
Love the custom thank you email to be sent after purchases.
Let's the buyer know they are appreciated and what else you are selling.
---
I have had no issues with this product, but it does miss sending out an e-mail here and there. All in all it does a pretty good job and my customers seem to like the added communication.
---
Seems to work well so far
---
Very helpful if you have a good, consistent flow of customers. I'd definitely recommend!
---
Thank you Emails are great, very nice touch!
I do believe the thank you Emails are great. They add a nice touch.
---
---
Love sending Thank You Emails
I really like this application. I think it is a great way to advertise my other items.
---
Horrible and Zero Customer Support
Never again will I try an app where there is absolutely no personal customer support. FAQ's and Ask a Question links are unacceptable in this 24/7 internet business. Don't get sucked into this one ... you'll be sorry!
---
Though I have not officially linked any new sales to my use of this service, it's just nice to have the option for an automatic email that both thanks my customer's and advertises related products. All in all, just a good service to have.
---
Sporadic but OK when it works
Very nice app with good features but doesn't work as it should. Very sporadic and stops working and stops sending out Thank You notices. I have to keep checking to see if messages are going out. some are, some are not, and then it stops totally. Message resets and have to re-write message.
---
Thank God For This App!!!!
Excellent!!!!!!!!!
---
this app sends a thank you email to my customers after they purchase from me on Ebay. it includes items that they may also be interested in. this gives me a chance to sell more and to automatically communicate with my buyers. easy to customize even if you don't have an Ebay store, like me.
---
Very nice and easy way of doing marketing! Automatic and hassle-free
This is the best way to showcase your items to buyers. Subtle, classy and easy to integrate.
---
Awesome apps worth the money
Awesome apps worth the money
---
It has saved me a lot of time and keeps my valuable customers happy!
---
Not only did I have buyers buy from me again, but also my buyers are happier and as a result leave better feedback!
---
Problems taken care of....
After numerous emails, problems we were having with this app were taken care of. Their first line of customer service needs improvement.
---
Nice and very use full for Ebay seller recommended.
---
Very helpful to thank your customers.
I like this app it is necessary to keep my customers happy.
---
Such a great way to communicate with my buyers and make sure they are happy and also a great way to get more sales!
---
Great App You Shouldn't Be Without!
This is an amazing app which you have total control over. Probably the most important aspect is you are thanking the customer for their purchase. The app also shows hyper-linked images of some of your other products to help promote them. On several occasions (you can set the time for the E-Mail to go out after the sale), I like ten minutes, I noticed several more sales from the same customers who purchased just an half hour ago. It is an awesome marketing tool at a great price. Thanks 3DSelllers, Eddie
---
Does just what it says..easy set up-works great!
---
This is an awesome app for customer appreciation
Thank you notes are sent out as soon as the customer purchases an item you design the thank you note, its great!!!
---
This is a great app for any ebay seller, I love that I can choose an email template and link it with my Facebook page!
---
Great addition to my thank you note
I love adding a thank you note to each purchase, but this is a great addition since its sent to the buyer right away and shows them your other items on ebay.
---
This is definitely a must have app for any seller! Ive always been looking for an app that will send automated thank you emails to buyers and im so glad I finally found it!
---
I found this app really helpful in getting buyers to check out my other items and increasing repeat sales!
---