Storefront Pro
By Storefront Pro
(released Aug 02, 2013)
Ready for an exciting presence that really stands out? Previously, you had to hire an expensive professional to sync your eBay items to a website. Now with Storefront Pro, you can in a few clicks!
Categories: Marketing & merchandising, Checkout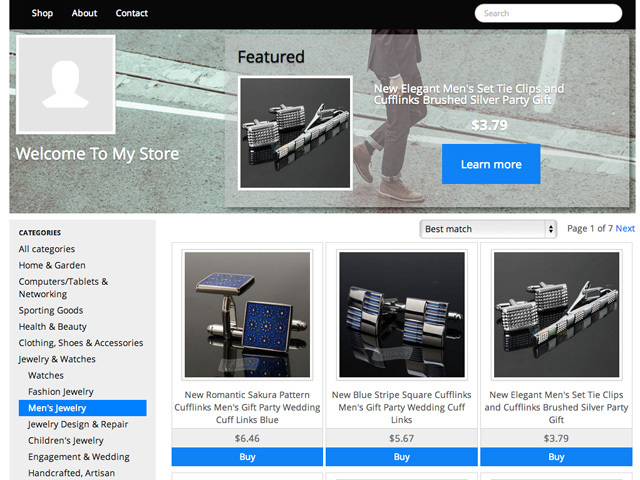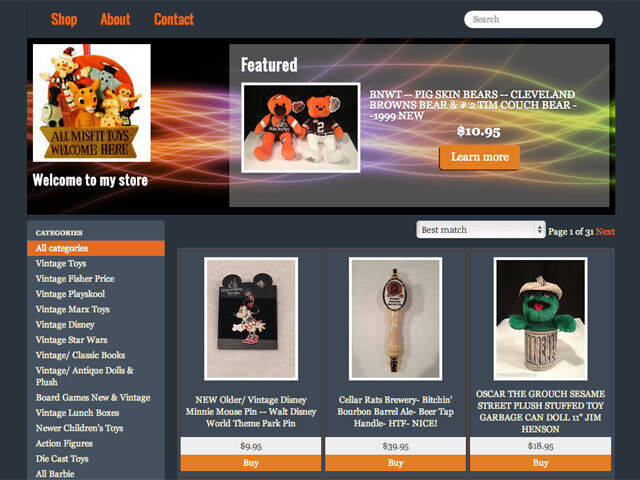 Key features
Super easy to use. No design experience required. Setup in a few clicks!
9 themes to choose from
Choose from different header images or upload your own
Upload your own logo
Custom storefrontpro.com web address. (e.g. mystore.storefrontpro.com)
Description
Storefront Pro showcases your eBay items in a modern, clean storefront that's fast and easy to navigate. Setting up is easy, fun, and only takes a few clicks. Try Storefront Pro today!
Additional resources
PREVIEW your store NOW with one of many template options in one click!
Application requirements
Supported browsers:
Any modern web browser
Supported languages:
English
Supported eBay sites:
ebay.com
Required eBay subscriptions:
None
Application support
Please allow two business days for a response.
Storefront Pro
admin@storefrontpro.com
i used it for almost a month i didn't get any customers !!!
Created By: isaacwholesale
---
This app never worked. No response from storefront pro to resolve the issue but they sure never missed billing my account for it. Would not recommend.
---
The storefront pro has been a positive experience in helping me sell my items. I would highly recommend it to all.
---
Good
Created By: we.love.handmade
---
HORRIBLE CHEAP AND INEFFECTIVE WAY
HORRIBLE CHEAP AND INEFFECTIVE WAY DONT WASTE YOUR TIME
Created By: trainsandcollectibles
---
Look the look of my store and my sales have increased!!
I would recommend Store front to everyone with a store...
---
I dont see anything different in my ad , therefore I dont need it please cancel and dont charge me
Created By: swaneykess1029
---
---
love the look!! so easy to get a truly professional look to my listings!!
Created By: asensorything
---
Very easy to use with everything you need to describe your store
---
THIS PLACE SUCKS BIG TIME DONT WASTE YOUR TIME OR MONEY
DEC. 3RD No contact back from customer support they dont exist! I have errors and no one to talk to about it! I dont want to change my review after i write this i want everyone to stay away! Duh! Good thing i went thru paypal cause i blocked these MFers!
---
I love this program. It has made displaying my items look so professional. l have spent long hard hours on websites and the ease of use for this program is amazing. I think I was done creating my page in ten minutes and that was just because I couldn't decide from the great choices they offer. 5 Stars all the way. WTG!
Created By: tumbleweedtradingllc
---
easy to use my page looks awesome
Created By: mindilbrown01
---
I have had an unusual encounter with storefront pro but it seems the problem is getting worked out
It is something new and you pay much less for this store than an actual subscription to ebay. ebay also handles everything for this store. congrats
---
---
I have used this app for more than a year. I am quite satisfied for the most part.
Storefront pro is an attractive and functional app for the store owner on the go who wants a professional look. You select your color and layout options and forget about it. I am bewildered though, that some of my customers see my generic, old unimaginative Ebay store, while others get the flashy storefront experience. There really is no comparison, and Storefront's low pricing is not bad on the budget either.
---
I paid for it and never was able to use it
They charged me knowing eBay does not allow them to use the Language required so they redirect you to another web-site URL. When they inform you with e-mail of this fact you cancel and they dont give you your money back. Rip-off
---
It has a very poor selection on everything. Was very disappointed, I will unsubscribe. :(
---
NO CUSTOMER SERVICE!! CAN'T ADD PRODUCTS!! DO NOT RECCOMMEND!!
PROVIDE NO CUSTOMER SERVICE. DOES NOT ANSWER EMAILS
Created By: everythingbuttheordinary
---
biggest rip off joke ever, go away please
---
No customer support / listings littered with no photobucket 3rd party support unless you want to pay them TOO for BS support
Created By: griffin_trader
---
Do not buy or ever use, going away for good and should be
worst application and waste of money I have spent. Do not waste your time or money. Very unhappy with my experience and eBay users can not even view it. That deserves 1 star don't you think? Just trying to save you the trouble
Created By: pocketchange1
---
Never showed up on my storefront. Hard to cancel.
Horrible. Do it yourself and the application is hard to use. Hard to cancel, especially since I didn't know I had activated it. It didn't show up on my storefront. But I got the bill!
---
My Storefront Looks Amazing
Easy Setup. My storefront looks amazing
---
I like it and will continue but I don't know how to incorporate the new page with the old page so that
My customers can find my new page also how do you make a logo I tried unsuccessfully.
---
A terrible company to do business with
A terrible company to do business with
Created By: canvaswallart4you
---
I really like the look of this storefront
Well it's just like they say,they fix it up for you,I think mine looks very nice,I have just begun with this so I can't say to much wait yet ,but so far it's great.
Created By: 4everlonely777_8
---
I'm still in the trial stage but so far it's great!
Created By: planetantiques55
---
Not updating my items for sale very slow
I liked the store front in the free trial phase the day I paid for the service it stopped working
---
quick, easy, and beautiful
it allowed me to use my own images in the logo and theme
---
Good Product Wish it was a little more flexible
For it being the pro version you would think that you could automatically make both your ebay store and it match but that doesn't happen
Created By: hidden_treasures_resale
---
---
Great starter, very easy to set up, looks great
I ran across this application while looking through eBay seller apps. With a click of a link I was able to see what my store front may look with with my products listed. It Looked Great. I have developing a Shopify site for a couple months now and haven't gotten anywhere close to being able to display my products online. This was a quick and easy to put my products our there while I finish up my Shopify site. Thanks Storefront Pro you took a lot of stress off of my opening and launch. VERY HIGHLY RECOMMENDED!
Created By: reelsticksystems
---
Very Disappointed, sent emails for help, no response
---
Very easy to use. Simple.
Created By: antiquusjewelryandantiquities
---
ok , but does not come up when going onto page
make it work
---
Doesn't work. Waste of money.
It says that once I install Storefront Pro, it will automatically populate with the products I have listed on eBay. It's been 4 days since I installed it and still no sign of any items that I currently have on eBay.
Created By: ric6299-ersoeijx
---
---
so far so good. just set it up
Created By: southbeachfashion9thst
---
Storefront page takes 10 min to download.
---
---
I at times see a peak in sales.
---
i looked at several online market places, this one was the fastest and easiest to set up for me, and the least expensive monthly subscription, i sold several art pieces within 12 hours of setting up this storefront app. couldn't be happier with it!
---
I like the look but could be easier to use
Created By: memaws-treasures
---
I did see a rise in sales after setting up my pro storefront!
Provides an extra storefront online that looks professional and boosted sales. Effectiveness was big at first but then market dropped for my items, and can't know if this app became less effective.
Created By: the_antique_archives
---
This is a great app and was easy to set up
it gives my storefront a more professional appearance
Created By: hookzthreadznthingz
---
I had only 24 views in three months and with the store front 5 in one day
---
My store.looks very.professional
---
Love this ! Fast..easy...and so classy looking ! our customers love it ! 5 stars !
Storefront Pro really makes a huge difference in your web business - we experienced instant sales on this web based look ! very easy to share the link to your store too ! easy fast set up ! love it can't say enough about it !
---
I like how the photos are displayed.
Created By: collectiblesbylaura
---
Little to No Help from Support
I have tried to get help three times from Support. I'm new to the eBay store community and I was trying to load a professional made Logo to my Storefront. Three times I asked and three times I received no help. So I'm through with them!
---
---
Been using it for over a year now. Had a few problems setting it up but the support was great and have used it and loved it ever since !
Created By: stevecollectables15
---
Excellent App until it wasn't...
So here I am directing people to my store by pointing them to my website which pointed to my storefront pro page. Someone said it wasn't loading. "huh", I said and began my investigation. I ended up emailing for help and received an reply saying the following: "On 4/5/16, eBay announced in their Spring Seller Update they will no longer allow active content on listings and in storefronts. Active content includes JavaScript, Flash, and other dynamic content, ...blah blah blah". Sorry, I hung up my IT hat years ago for a peaceful retirement without having to worry about all this mumbo nonsense. In the end, I ended up having to cancel the subscription as I wasn't about to waste time trying to figure out the rest of their email. Yet another policy change to make it once again more difficult for the average seller. Time to stick to my own website.
Created By: honeybyrd_hobbies
---
The process was relatively simple. I like the store presentation.
The process was simple and I like what was done.
---
makes my store look like a professional
more sales for sure
Created By: ricks1909svdb
---
Easy to set up and personalize.
I am a new subscriber. So far I am excited about the additional venue to my online business.
---
Haven't got to see it live but the preview looked awesome!
I won't really know until I have it for a bit but it was amazing in the preview and I can't wait to have it live, but I have a question and will have to find where I can get it answered weather or not I still need acutiva anymore?
Created By: vulcanriders_1
---
Storefront Pro provides a very simple, well designed storefront at a reasonable cost.
Very easy steps to create a professional looking storefront, however, desire more features (billboard or sign for sales, statements etc.). Therefore, cannot commit at this time. Thank you for the free trial!
---
AWESOME! LOVE IT! HIGHLY RECOMMEND!
AWESOME APPLICATION!I WOULD RECOMMEND EVERYONE TO TRY IT!
Created By: cajunqueen1962
---
i wish it more options for arranging your items on the page. different configurations.
---
Love how easy it is to set up...
---
worth the few dollars they charge
its basic but it works, had a couple questions and they responded quickly by email
Created By: cdm_motorsports
---
I have never dealt with an app that was so easy for me to set-up, and get connected to Facebook to also promote the store. This is great stuff guys! Thank You, Jack Williams.
Created By: celebfotos19807
---
Using the basic storefront is simply beautiful to me. The options of managing my store is so easy.
Being new to eBay, I simply wanted to see if I could do some selling on my own. Choosing Storefront Pro have made selling my goods a great experience. Although I am still learning, I am happy to have simple instructions to manage my store. I love the look and description type on my selling items. It is very professional and attractive store front..at least to my eyes. Thanks for the help!!
Created By: colus-wc9072o
---
It looks alright, but how do you make changes? How can I display my Special Offer?
Created By: phantomwarrior1327
---
very basic and limited in features and designs for your store
very basic and limited in features and designs for your store
Created By: your_one_stop_eshop
---
Up and Running in 120 +/- minutes
Not a bad little App for the price. However, for $60/year, little things could vastly improve upon it. Items such as font color as well as text placement (and perhaps fonts themselves). I had to create a banner with my own titles and colors so that some text items could be read. It would also be a nice feature to be in control of the layout colors as well. I also had to do a double take on how to get the store to display. Be sure to take a good look at the 2nd paragraph under Access. If you are using the new eBay storefront you'll need to switch back to the old storefront. Overall, after playing with the menu items for about 15 minutes, it's quick to grab and install. It's also good to be versed in Photoshop or another photo editing software, to make a customized header. Bottom line, with my own customizing of the header, I had an up and running nice looking storefront in less than 2 hours.
Created By: too-technical
---
Very good and happy with the look can do better with customization
Can be a bit better if there would be the option of adding boxes to write in the About page.
Created By: thekingofdeals-0054
---
It way very easy to setup
I was worried about setting up my own website. But this made it very simple and easy. Thank you so much
Created By: jagwreachingjunkies
---
Love the way this app cleans up any rookie mistakes in the store!! very user friendly and fast!!
---
Perfect solution for those of us who don't have time to revamp our stores, fast and easy.
Created By: cmthomas31795
---
Quick - Easy - Professional
Fast easy way to creat ea professional looking store
Created By: mr_bullterrier
---
It does more than expected for the price. Easy to use and looks good.
---
The Storefront Pro is soooo easy to use. Looks professional and increases sales. I am very happy with it.
---
App is outdated- eBay implemented new storefront looks
Contacted customer service twice and never heard back. This is an automated app to make money. They are no where to be found!
Created By: nationofvintage
---
---
the best product you can get
super easy. i set up in literally 15 minutes. thanks guys!
---
Great tool, it is simple and helps sales.
Great tool, it is simple and helps sales.
Created By: infinitebaffler
---
I love the display of my items. It looks so professional. Thanks so much
---
don't waste time or money! this app is way too annoying and theres no support!
Created By: fashionworld516
---
I love the way my store front looks very professional just what I needrd
Created By: littleonesunlimited
---
I can see the Page in my e bay
I did, but i can not see any changes in my e bay store.
---
Excellent
Created By: vivianshoe_store
---
Very Easy setup Store front looks great
This makes my store front look great and have gotten more sales because of it. Thanks
---
Provided very little and cost too high.
Created By: mooregallerybooks
---
excellent
Created By: sportscardsandmore2015
---
THE BEST++++++++++A+++++++++++
---
I tried it couldn't use saying my ebay account was not linked to my bank account when I know it was
Created By: jsprestigeautoshinesupplies
---
Excellent. It gives you everything you need to run a profesional store.
Great Customer Service.
Created By: familytiesjewelry
---
Great App Can't Afford Apologies
Please Cancel ASAP
Created By: tdmllc5thedestinymanifestollc
---
It's professionally done; I get great service; couldn't ask for more
I love having a store front that looks so professional and let's me do customization. If I have a problem, support is very responsive - I almost feel guilty; no one else provides a service like this for the price.
Created By: adelsten-gmbh
---
Great Store Front * Easy to Navigate
Was very easy to setup, and a interface built in to work with your Ebay store. Gives a professional look to your store. Would highly recommend.
Created By: just-like-new-nc
---
In a word ~ Effortless
Created By: camilasemporium
---
not much to choose from and I think Im not stuck paying $4.99 a month even if I unsubscribe.
Created By: glamsprimadonna
---
My store went from shabby to Fabulous!! This is great!!
I was just posting things at random like EBay instructed, then I found Storefront pro. Now my items are featured and it looks like a real store.
---
Great App, Worked Like A Charm with a Push of a Button, Great App for Beginners!!
Easy to use, Simple Integration, Great customer service. For E bay sellers looking to make their storefront look better with a push of a button. I wish all programs were this simple. Great Job!!!
---
---
Very Very VERY easy to setup - great app for minimal cost - increases visibility on web -
---
Application was quick and efficient.
It was very easy to do.
Created By: nscaletrainsjoe
---
Easy to set up and nice clean look... wish you had a few more options like colors and layouts and maybe some sort of message board for all shoppers to see... But love it and it works as described!
---
---
Love this app, easy for new sellers!
A must have app, easy to set up and worth every penny!
---
Needs more templates!
Created By: d-ldymc-vfwiqbtb
---
Absolute garbage! Not what they claim it to be.
THIS DOES NOT GIVE YOU A STOREFRONT ON EBAY and after a month I have yet to hear from their "support team" they do not respond to their emails, period! This is in no way a good value or will help you in marketing your products. Don't bother.
Created By: obsidianights
---
Unbelievably easy to create a professional image.
I have been building another website with the help of another program I purchased recently for $49.99. I have been working on getting it set the way I want it for 3 days now and still do not have all the details worked out the way I want it yet. With this program it took me less than 20 to get set up and running.
---
Why do the changes I made using StorePro not show up when i go to my store?
I am just learning but I cannot find the changes that I made using your app.on
---
easy to use, working nice
---
Good working basic application - No frills though
The templates are very limited and not very appealing.
Created By: vikingsurpluscenter
---
Great product, easy to use and technical support for any questions I had. My store was up and running instantly!! Bob
---
Does it do anything other than reformating the ebay data?
Geez... I was expecting the ability to add, edit and delete my items. All this does is use a website address and reformat the ebay items. When you click on an item in this store, it just goes back to ebay. Any user can already reformat their ebay screen to look similar. Not even close to being worth the monthly fee. And you can't even see this store anywhere. It doesn't add to your listing your store address or anything. Useless to me.
Created By: leiterstradingpost
---
Relatively easy, but not always for me, but I'm getting there.
Created By: kimberlys-precious-treasures
---
Very professional looking site.
Liked the results,,wished there were a few more themes to choose from. But the ones they used were good.
---
Makes an attractive store if you don't opperate on sale recognition
I run on sales to help maintain profit levels. Notification that an item is reduced is key and this does not provide this feature. Loved the look overall and a great and easy to use feature overall.
---
User Friendly and Very Clean Store Front I Like it Very Much.Looks Very Professional
And you can?t beat the price .
Created By: emeraldcitysdeals2014
---
NOT HAPPY,STORE LOOKS GOOD BUT WHEN YOU GOOGLE THE STORE NAME IT,S NOT THERE TO FIND
NOT SHOWING UP WHEN YOU GO TO FIND ON GOOGLE SO SORRY BUT WAIST OF MY MONEY,,LOVED THE STORE BUT IT,S NOT DOING ME ANY GOOD WHEN PEOPLE CANT FIND IT. :(
---
Very poor service. No one ever reply s to your question s. Just take your money
---
Storefront pro is a very easy to use application that makes your Store Stand Out awesome. For new store owners and owners that do heavy volume, this is the App for you
Created By: omaandopa1973
---
I look for software to project a professional image and this is the only one I liked. Also, I get excellent support. I'm really happy.
Created By: adelstein-gmbh
---
Very limited abilities to customize your store
I would have like to change the color of the tabs from Red to Purple but could not. The theme tab is very, very limited and should give you the option of picking not only the theme font but also the color.
Created By: purplebirdiestore
---
---
Nice clean look, but I wish I had more template choices.
Created By: icelinkjewelry
---
Server not hosted by Ebay . Slow
Eliminates back button for shoppers.Always opens new tab.Not shopper friendly. Slow loading. Sales slow down. Save your money.
---
The store needs much Better Themes added to it. Better Layouts too especially for those people just starting out and cannot afford expensive themes right at first! Be Nice and Help Us Succeed not FAIL!
Created By: tmroyster1234
---
Closed a few weeks ago, store locked stuck on load...
Closed this app and now my store is locked with what looks to be the store I had. Just keeps loading... No reset. Waste of money, should be free.
---
Totally pleased, very easy app to use because they do it all for you.
---
How to convert your e-bay store into the Storefront created by this app!
YOU ARE ABLE TO CONVERT YOUR E-BAY STORE INTO THE STOREFRONT CREATED BY THIS APP AND HERE IS HOW: to make the storefront into your eBay store -reset your store to its original form and click "Turn eBay Store Integration ON." I was unaware of the ability to do this and recently rated this app giving it only 4 Stars. My awareness of this capability results in my changing to a 5 STAR RATING! THIS IS AN EXCELLENT APP WITH AFFORDABLE PRICING! and I highly recommend it.
---
A bit too simple, no social icons or other widgets.
---
I was able to simply and easily design my new store front using a combination of the preset templates and my own images which I uploaded... The result a highly professional storefront that is pleasing to the eye and easy to navigate.
---
With one click my store was set up. I love it, the process was easy and the monthly payment is nice
The instructions were simple and easy to follow even for someone with limited computer experience. I am happy that I am able to show all of my hats under my store name. My customers will be able to find my store and merchandise without having much difficulty.
---
I love the look and feel using this application give my store
---
looks good, loads pretty fast but no enter button on store search price was 4.99 bill $7.99
looks good loads pretty fast but no enter button on store search price was 4.99 bill $7.99 cancelled
---
Awesome! Great store front!!!
Awesome!
---
the service worked as described.. looks great and for a great price. Very easy to use
---
I like Storefront Pro. The pictures are crisp and the site looks very professional.
The only thing I wish I could do is keep my latest items up top when a customer clicks on a certain category. I have tried to keep the new stuff at the top, but it retracts back to best match. A few more features would probably help, like "Coming soon" maybe this is not the place for it. It's just a suggestion.
---
I found it to be slow compared to the eBay store. The categories would, not all the time but they were slow to load the listings. Also, I removed the twice and I'm receiving a bill for it. You can see that the app was removed from the "MANAGE APPLICATIONS" tab but was actually not removed when you revert to the old eBay store. I'm sorry, I did not use the app for the 7 day trial period and will not be paying the bill.
Created By: buy-it-now-surplus-warehouse
---
---
Wish there was a little more options for header views and header wording colors
Great APP!
Created By: possibleproducts
---
Great look for the store love it. I recommend this app. I think everyone should have Storefront Pro.
Created By: debbiegoodgoods732
---
Very easy to use and looks great!
Very easy to use and looks great!
---
This was by far the easiest thing I've ever done on eBay and the result is fantastic. My store looks 1000 times better than it did...A++++ rating
---
Great App for Dynamic store look
I like this app. Customer service is great. Some times product loads quite slow and less option to customize other than that everything is perfect. Great app.
---
Very nice Store Front App
The only thing I would improve is more picture choices. Also choice for holiday decor for your store.
Created By: cherylssoutherncharm
---
I like it! Is like having a Web Page!
---
Great Store designs
Created By: acs-performance-clutches
---
you cant list a simple product...after spending nearly 5 hours trying to list my products I gave up... very poor and NOT user friendly
---
Easy to set up, easy to use
Just getting started on Ebay and so far, I'm tickled with this Storefront Pro app I jumped right in and set it up in less than an hour, and we even used our own pics!
---
I have found setting this up is quite easy, just read and read again and of course follow the directions closely. The results are well worth it, my store has never looked so good, thank you!!
Created By: huntingtreasures4u
---
Helped with sales greatly and very professional!
---
Having problems activing Storefront Pro
I cannot figure out how to activate the Storefront Pro. I found it difficult and I still have not figured it out. I can provide a better rating once it is properly working.
---
You do not provide enough banner or storefront options and most of what you do provide is much too bland.
---
not enough options for storefront
You do not have enough options for storefronts with any pizazz to them not enough banner options.
---
Effortlessly creates a nice looking store. Would always love more options, but they do a great job of making a good clean look!
Created By: central_valley_computer_parts_inc
---
Didn't like this application after subscribing for service, too basic.
Didn't like this application after subscribing for service, too basic. They still charge my PayPal after I've unsubscribed two weeks ago. Someone might say: "It's only $4.00", still it's not honest.
---
Not bad and great customer service.
I tried this out and decided for the features and the monthly cost it just wasn't worth it for me. I had a very pleasant experience with their customer service and certainly wouldn't tell people not to try this out. With me it simply comes down to personal tastes and what you get for the cost.
Created By: davesonlinedeals
---
easy to use, love that we can choose different backgrounds or upload our own.
Created By: jaz_products1980
---
This app is truly amazing, I love my new look, thank so much. I been searching for something like this for a long time.
---
Putting items on or taking them off ? Could not change the sale banner?
Had items that were not in my inventory. Did not take sold Items off. As far as I can tell new Items were not put on. I could not change the sale banner to a new one. (Did all the stuff they say to change it but nothing worked. Sent 3 e-mails to them asking for there help and as of today still nothing from them. So now I have taken it off ( to Bad Looked good ) Now to see if I get them off the payroll?
---
Captures a store front with professional design. Impressive
Since I only took part in the trial version, I'm not equipped to suggest its for your store, but can say it was a pleasant surprise to have my basic store click into a professional looking site .Great color in the right places and I just couldn't afford the additional monthly fee right now.But for those who could use some design flair and a bit extra $ monthly ,this is worth a peek. Not just for the design ,does it get the stars; but also, for the support service. Fast response, and that alone is a winner since I'm not tech savvy and can't afford to have my store in limbo if there's issues to resolve. I'll be back for this one , thanks John.
---
The integrated design for the store is actually very clean and well made. I wish there was a bit more freedom as far as the settings are concerned but for the price it's a pretty good deal.
Created By: soltech-security
---
I was not happy with the templates or headers to chose from
Created By: cheever.gifts.and.collectibles
---
got everything set-up the way i would in no time at all. thanks
made it so I can use store
---
easy set up looks professional and very affordable !!!
---
what is this service for anyway?
No benefit none what so ever.
---
its just great thanl u all
great exspearance
---
StorefrontPro give you that professional appearance...
I loved the StorefrontPro and will use it again when I have lots to sell. Right now I am just selling things around the house, but when I get moved and get settled in, I will be back and will use it again.
---
I rated this app poor before, but customer service was great at fixing my issue, as well as digging further there is a lot more this app can help with saving time than meets the eye, worth a try.
---
like the older style better, sales went down since upgrade
Created By: europeancarparts
---
After I list a new item it is flwlessly added to my store with no further work to do. It is one click away when I bookmarked my store. Now I can instantly see what is going on in an instant.
---
I like the looks but I need to manage the duplications as they appear sometimes from ?
I like this app ok, but I find problems with managing it as others, but you have more control with this app. Right now I have duplicate items on and can't get them out of the store because they are auctions. I would like them out of the store. Any suggestions?
---
excellent layout and placement of items for sale
very easy to use
Created By: eaglesbrother2otz
---
Started at .99 and the doubled w/ no warning
No a happy camper for a graphics template that does nothing on my homepage.
---
it makes our store look really nice and i especially like to see our latest grandson.
the way she capture the items and how you display them was never an option with the old store on ebay. thanks Karen
---
Good Product, Wish It had SOOOO Much for to offer!
It is a simple format, no originality and a lot of simplicity. Wish we could do so much more with it. Some of my display product pictures are different sizes. Some big some small, it does not look nice on my store. Wish it could be fixed.
Created By: apparelinstyle
---
---
---
Not bad, but not what I needed ultimately...
I need something a little more involved than just a storefront website. Thanks for the trial run, though!
Created By: semaphorian-classic-games
---
I was happy with the software but couldn't keep it because of that. it only shows buy.
Created By: videogamesusa
---
Best out there for ebay. Canceling because I am moving to eCommerce and no longer need this great inexpensive product...
Created By: savemore4sure
---
For the price, there's not many options. However, it is somewhat of an improvement
For the price, there's not many options as to what you can do. However, it is somewhat of an improvement.
Created By: tacticalboutique
---
It was so easy. I love it!
My sales were down so I'm trying this and I love it! Thank You!
---
Overall I am really satisfied with this application.
There are a few difficulties on setting up some of the store information, logos and etc. I didn't know until I received an email after sending an email asking for help that I had to go into something called "My Old Store" rather than the "New Store". Since I never had an "Old Store" I had no clue that I needed to go there. The staff was very prompt however in responding to my emails and helping me out. So far I am very pleased with what I see!
Created By: treasuresunlimited35
---
This is exatly what I needed!
Created By: soundcontrolproducts
---
paying for something I wasn't using
---
i love it
Created By: copperfurnish
---
Great at first but not reliable
It's a great and easy way to make a store front stand out, but too much downtime. Seems at least once a week the store items won't load. It just keep thinking... Some key features missing such as category specific links (I cannot send my customers a link to all the store items within a particular category). The contact us page never worked for our customers. Good product but needs improvement.
Created By: vipproductsonline
---
Great product. Excellent results.
Made making a professional looking store a breeze.
---
Best on eBay...Great price...
Fast shipping, great buy, great seller!!!
Created By: juststuff4sale2011
---
Really like Storefront Pro, easy to use, looks good!
Really like Storefront Pro, easy to use, looks good!
Created By: a_southern_belles_boutique
---
Great-looking storefront page that makes your images "pop".
Sets up in a couple of minutes...changes easily made.
Created By: whitemtnhowdy
---
it made my store look great and professional
loved how it displayed my items
Created By: stuffseller451
---
Easy to use, and very clean designs
I found this app to be easy to use and the design templates clean and uncluttered. I have a couple suggestions which I will forward to the provider
Created By: oldtoystoreusa
---
Simple, straight forward and easy to use.
---
Great Features, all info clear and well designed.
Created By: highyouarehere
---
Storefront Pro made my eBay store pages beautiful.
I really like how the images of my items for sale are featured on the pages. It looks professional.
Created By: releidichroics
---
love love love it.. made life easier!!!
Created By: madamesclosetboutique
---
It look very nice but buyer cannot see your store front unless they know the store front URL.
It look very nice but buyer cannot see your store front unless they know the store front URL and the pricing says it only charges $4.99 a month but it charged me $7.98 and when i asked ebay about the charge ebay says because the charge only shows on paypal and does not show on my ebay invoice that they can not help me so I am canceling my Storefront pro right now...
---
This is a great feature on E-Bay. Takes care of business and fact finding.
It's such a great tool to have if you want to know in greater detail how your Business is doing. Has complete listing on everything business in my Store and makes things so easy to work with. Thanks for making this available to sellers.
Created By: marilynjmiller01
---
Was having problems with app not working...would show all items in store but when you clicked on item from store it brought up a page that said item not found or was moved or has been more than 90 days...wrote company about problem and never got a response...dont waste your time with this app because you will lose sales using it as your customers wont be able to get to your products using this app...switched back to ebay standard store and all links work.
Created By: lazygirlsclub1
---
---
Tried Canceling and removed my store completely...was done over 24 hours so resubscribed
Forced to resubscribe otherwise my store would be down entire weekend, then resubscribe just to see it won't let me change theme, even after pressing shift and reload.....not happy with service, called ebay and they say takes at least 24hr for someone to look into it.
Created By: mellstradingco
---
Very happy with the application
Very happy with the application
---
A Fresh Breath To Your Ebay Store
This app is one of my favorites. The variety of choices to choose from and professional looks definitely help buyers make the decision whether to purchase something from you or not.
Created By: allclutchsystem
---
Great App. Cost effective way to post a URL and show/addvertise all your items on other sites
My sales have increased nicely since I started using this app and much more cost friendly than having actual store A++ App.
---
Pretty store - easy to setup
Also I did redirect my domain name and now people just have to type in spaceyhost.biz to see my store. this is better than the regular magento ebay store that limits how much google can index.
---
Store search don't work
Created By: homefashiondesign
---
Silent workhorse always wrangling repeat sales
If you don't have a lot of time or even if you do, why not have an automatic advertising team working for you!? I think this app is why we are silver power sellers.
---
Great looking presentation
By using Storefront Pro, it makes your ebay store stand out from the others. Easy to customize and great looking finished look.
Created By: solidcopperjewelry
---
Great store, not compatible with ebay....
I really enjoyed this application, but my store kept disconnecting and appeared to be "closed' - for days the store would not be accessible. After two conversations and credits with ebay, I gave up... ebay does not suggest using this application.
Created By: shelleybytheseastore
---
Love the layout and look!!
Best value!
Created By: princesfelica
---
looks nice, but looks can be deceiving
Quick to bill my paypal acct but when having problems you can hardly get help. my 7 day trial lasted 2 days for the rest of the days could not log on to there site or manage the app. days later they were back online and their logo change. They did not admit to the issues. Not even a minute after the 7 days they dip in my acct. After waiting for response 2 days via email back and forth, they offer me 30 day free, I cancel my sub, yet they still sitting on my money.
Created By: premierwaysolutions
---
Great app makes my store page look much cleaner and professional.
thanks for creating such a great app
Created By: mystic_andara
---
great product. store has a nice look now. cant beat the price.
how can you beat the price? our store looks really nice. so easy to use too! i have paid bigger bucks for a storefront before that wasnt half as nice looking as storefront pro. way to go guys! pat/sandy
---
Takes forever to open or ever open.
Created By: searchrescuedtreasures
---
For the money, it is the best app you will find
I've had no issues or bugs. It looks and works very simple and clean. I have no complaints and for the money you cannot go wrong. I would highly recommend this app over the other one that is available. I tried both, this one had no bugs and looked more professional.
---
Its sucks!!!
Created By: dannysoriginalcustoms
---
Love it Thanks
Created By: sellerofoddnends
---
Our store looks so much better now.
Our website was okay prior to storefront Pro, but after it looks incredible. We didn't have the tools to build a store the way they did and it only took a few minutes.
Created By: monkey-bar-storage
---
Cant add in the header change around enough.
Created By: travelintheresa
---
i love it. very well displayed
it went very well. very well put together. im in awe. God is good!!!
Created By: rusty767russell
---
NOT BAD FOR THE COST WE'LL SEE!
---
Easy App, looks better than just a regular store. 4 stars, I would pay a little more for something a little more complex.
---
Very simple! I like it.
Created By: searchandresucedtreasures
---
so far everything is a breeze
very simple and fast to set up
---
Easy to use and edit and makes my Ebay store look so much more professional!
Created By: marchantbrian
---
Nice look but no extra features
for the price its not worth it. header and ending soon are nice. lost some of the good store navigation like subcategories using this
Created By: yourdollscloset
---
looks nice and its easy to set it up!
Created By: payless-auto-parts
---
Good Design - Not All the Features I Wanted
Was able to create a great design for my ebay store, however, there are minimal editing tools, and it does NOT show 3rd level drop downs in the menu which I need for my business. I contacted the developer and he told me that 3rd levels were not included for design purposes. I inquired some more and he never responded. Dropping this program.
---
It is simple, easy to use and very Professional
Easy Set up for a Professional look
Created By: simplepleasantthingsantiqueshoppe
---
It works great and user friendly
Need to be have more space to say something about the store or the business. Everything too simplified, gotta have more options to make it better.
Created By: automotive-solutions-online
---
I really thought It changed how my page would appear on ebay, not on a separate link...
---
i was looking for a better way to get my product seen threw many ways on ebay when i came across this app right here and took a chance on how i would like to display my items so far so good and i give this app 5stars thank you.
---
Very easy! It really only took seconds to do.
Created By: rockymountainhiddentreasures
---
mis reciew but gets my 5 stars
wish it had more templates kinda week in that department for what they charge but what they do have is outstanding better by far than a lot of others and a no brainier to set up. good job just add a few more templates.Even with out them that it is truly worthy of 5 stars.
Created By: aquaseagreenorganics
---
A very nice upgrade to the stock version that eBay provides.
---
Easy and inexpensive way to obtain professional look!
you cannot beat the ease of use or the cost of this service; I only wish I had known of it sooner!
---
Super easy to use
Created By: signaturesalestlwllc
---
Looks great and piece o' cake to use.
This app literally takes a few minutes to set-up and gives a much more professional look to your eBay storefront.
---
I have fount the App very useful. Give a pro look to my front store. Very easy to change the theme. RECOMMENDED
---
Quality Product That Adds a Polished Appearance to Your Store Page
I am very cautious about giving feedbacks on apps as a general rule...many feedbacks that you see are given immediately after the individual begins the product, and that can be very misleading. I've also noticed that many of the feedbacks are given by individuals with low feedback scores indicating to me their lack of experience, at least to me. With this said, I have been using this product for 4 months now without any issues. I am very satisfied with the appearance of my store. The App in my opinion provides a polished appearance that makes potential customers feel like they are working with a professional. Only draw back is that I would like to see more themes and setting choices. However, the current inventory of options is sufficient for a basic polished look and feel. This is the only reason I gave this App a 4/5 stars. Again, I am very cautious about feedbacks and usually like to take some time in testing and trying them before I would even venture to make a comment.
Created By: superiorestatefinds
---
Great storefront and easy to use!
Looks great! So easy to set up and edit to match my taste!
Created By: accentshomedesigns
---
Love the details of the Storefront and the offers it provides for an easy experience!
Created By: butterflybreeze2010
---
very pleased with store front.for the price it is great,but i would like to see more themes added.thank you
---
---
not for me--Support Please REMOVE the application!!
super easy to install yet the search box did not work and i think theres only 9 templates-for a paid service i would expect a lot more choices. I cancelled the service yesterday and 24 hrs later their storefront design is still showing and when i click on "contact support" nothing shows up for me to contact anyone
Created By: sweetsurprises4all
---
i just got the store front app up and running and i love the ease of everything. i don't have to drag and drop or copy and paste, which by the way i hate to do!!!! it is really pretty and i can change as often as i want. i think this was a good choice so far. i will let you know after my trial period is over, but all in all very easy to use. i am anticipating a great increase in sales...
Created By: sonshinehighendjeans2013
---
10-days FREE
$4.99 / month after